This review was written by Jan Armitage from Renovation and DIY: the green path . Thank you, Jan, for being my first guest contributor. I hope you are the first of many.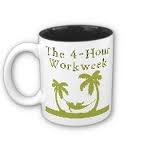 I read this book a few months ago from cover to cover.  And last month I re-read it, pen in hand, underlining things and writing exclamation points in the margin.  Just so you know.
Timothy Ferriss is a thirty something American – this is important, because the culture he's writing for, and most definitely the sub-culture he comes from, is very different from mine.  And yet here we are, meshing happily away….  His assumption, which I think is correct, is that everyone who's interested in reading his book in the first place will be able to benefit from some of the ideas in it, whether self employed or not, traveller or not.  It covers four sections, with the handy little acronym of DEAL.