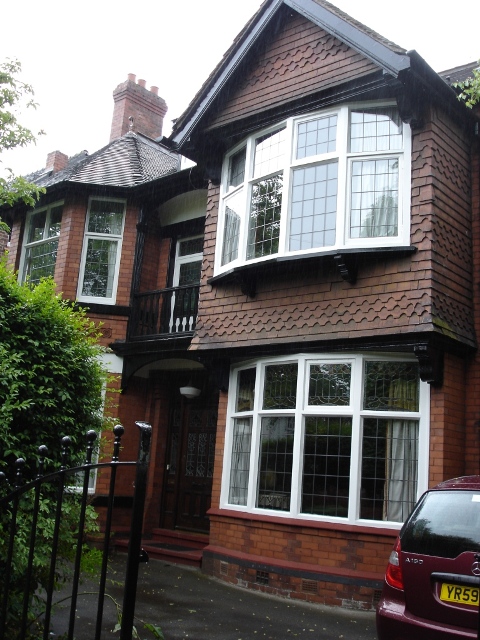 Usually on Fridays I let my hair down, so to speak, and tell you a bit more about what I've been thinking and doing. And more often than not I tell you about me being a frugal artist with food; stuff like my baking, my soups and the tasty dishes from my mother's recipe notebook.
After all, when it comes to frugality, it is hard to beat an Eastern European woman who lived through the Second World War.
Tonight I didn't cook and we committed the ultimate sin: we had Domino's pizza. And I know I'll pay for this with stomach ache and broken sleep.
I felt so tired, I could just about eat my dinner but not cook it. For weeks I've been working full speed on my day-job and have been blogging like a woman possessed.
This is why tonight I was eating greasy pizza and distracting myself from the thought that it is about 1,000 calories per bite by looking around the kitchen.
Gosh, it needs doing up.
Our long term readers remember that we had to redo the kitchen ceiling (it was falling down) and decorated; this was three years ago now.
And here is the thing: I realised we are headed towards a potential conflict of values and priorities.
We are focused on accumulating 'capital' and investing. At the same time we are not the users of this house, we are its custodians. Being a custodian comes with a duty of maintenance, renovation and improvement.
This made me look around our house, make a list of all that needs doing (I'm getting really good at making lists) and how much it will cost. We'll need to add what we need to spend on the house to our calculations of what we'll need for retirement.
Here it is.
One big job: re-model the kitchen
Re-modelling the kitchen is the last big structural job that is left to do after we changed the roof and put solar panels on last autumn.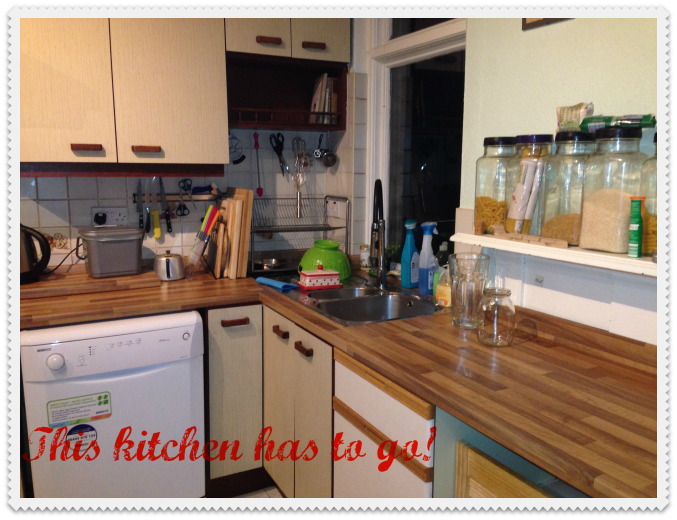 This is our kitchen at the moment. Yes, I can cook in it but as you see it is not very pretty. It is not that functional either – there is a small room to the side (this is where our fridge is and my wonderful espresso machine); there is a door that leads to a back room (where the washing machine is) and the back door leading to the garden.
Very bitty, the widows are small and there isn't enough light in it.
Our plan is to close the door to the small side room and move the downstairs bathroom there; to knock down the wall to what is now the downstairs bathroom and open the space down towards the garden.
I can see it in my mind – more open and continuous space bathed in light. And, of course new kitchen units.
We need an architect, we need a structural engineer and we need a builders' crew in for at least couple of months. Oh, and the decorating.
We also will need to move out while the work is going on.
Estimated cost: £50,000 ($82,850)
Decorating
Bathrooms
We don't live in a mansion but we have we have four bathrooms: three of these were done up during the last four years. Only the downstairs bathroom will need to be done but it is part of the Big Kitchen Project.
Bedrooms, hall and stairs
I thought these are okay until I looked carefully tonight. Four out of our five bedrooms need decorating (one of these serves as John's study; still, it needs decorating).
Our hall and stairs most certainly need re-decorating; Suzi the Dog is helping by having the occasional nibble on the stairs and the plaster.
We did decorate when we moved in; this is a long time ago now. Also we have the Dreaded Woodchip. If you my reader don't know what woodchip is have a look at the photograph.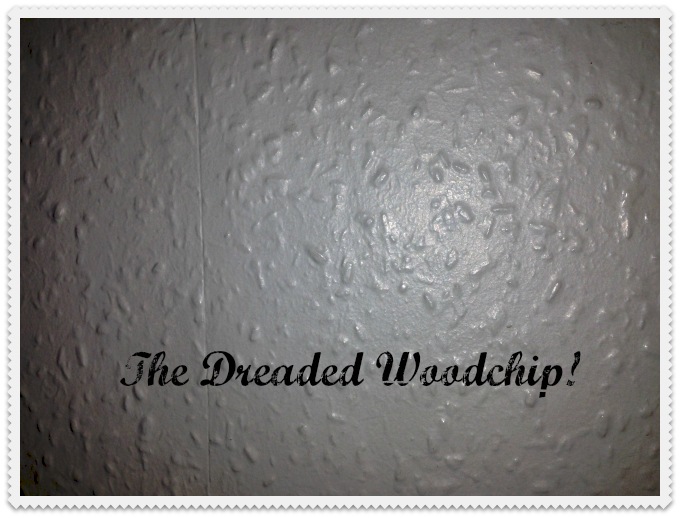 Yes. In the time when people can have custom made individual wallpaper, like the one offered by onlineprinters.co.uk, we have this paragon of bad taste that was popular in the 19080s. God only knows why.
Then again, hardly anything good came from the 1980s – fashion was dire, hairstyles wild and decoration really lame.
Anyway, there was woodchip on the walls when we bought the house and didn't deal with it immediately: usually it hides the need for re-plastering.
During the next five to six years all woodchip will have to go.
Estimated cost: £11,000 ($18,200)
Reception rooms and my study
On the ground floor we have two reception rooms (a sitting room and a dining room) and my study.
Only one of these – the sitting room needs decorating. Unfortunately it has the Dreaded Woodchip on the walls.
Estimated cost: £1,500 ($2,400)
User or custodian?
You see, being a custodian can be pricey. My list and calculations are not really light Friday evening fun.
Being custodians of our house will cost us an estimated £62,500 ($103,450).
I still will choose this anytime: being a custodian of the property you own is not only the right thing to do for the ones who come after you – it is also the right thing for you.
Only re-doing the bathrooms had a large positive effect on us: life is so much more enjoyable when one has a shower in a nice bathroom; one is so much happier and more productive when resting in a nice bedroom.
Are you a user or a custodian of your house?