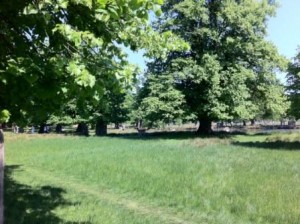 Yes, we did it again! After weeks and weeks without doing anything except working this is the second weekend in a raw when we did something to restore our spirits and refresh our souls. We had fun!
Today in Manchester (Manchester, UK, this is) we had glorious weather – sunny, the light still gentle and the sun warm without the relentless strength of the South. In brief, one of the days when I look around and think that living in Manchester is so much worth it. And since it was a real pity and a waste to spend such a day indoors we went to Dunham Massey Park – a large park part of the National Trust (for my American friends this is an organisation that owns and looks after stately homes and the surrounding parks and keeps them open to 'the masses'; funding comes mainly from annual subscription and we are members which means that we can visit and park for free). The picture was taken there today.
We walked, and talked and had great time. I was looking around and for the first time in weeks I noticed the beauty around me; all fifty shades of green that merged into each other and formed the patchwork of nature. The only dull thing was the grey of the man-made path through it.
Today was magical; it was made of moments like the one on this picture.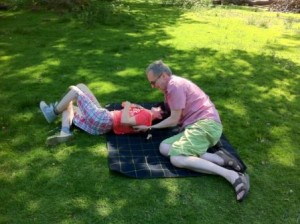 Look at the deer grazing around the visitors.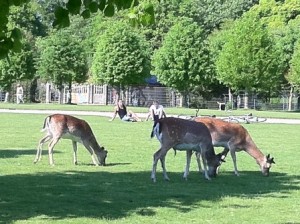 And the tree on the next picture was fully grown during the reign of Henry VIII.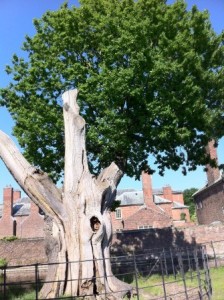 Today was a great end of a wonderful and very successful week. This is the week when:
I received a message that the very complex piece of writing I was telling you about is very much liked by the people it was written for.
Have an article published in Science which makes me feel so honoured – not many sociologists get to publish there; in fact I started getting messages about how to organise and upgrade my lab J.
And, apart from being included in five carnivals, The Money Principle was mentioned in two round ups: by Totally Money and The Millionaire Nurse Blog. Thanks!