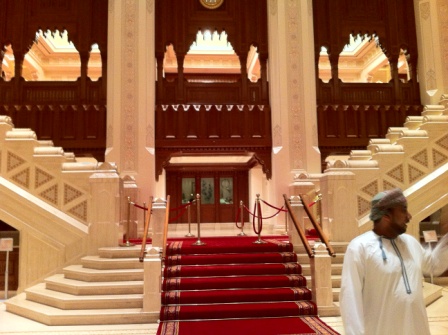 Since childhood we hear that we should not be greedy, we shouldn't take (have) more that 'enough'. In adulthood, we are told how important 'knowing our enough' really is: in food, play, love and money. Heck, even I have written articles in this blog about working out how much is enough and John even used the assumptions we set out to design a retirement calculator.
During my visit to the Gulf last week, however, I started asking myself the question whether it is possible to have too much money.
Now, my experience of wealth is limited: during my time on Earth I have met many people who are 'comfortable'; in fact probably most of the people I know fall in this category. These are my neighbours, my colleagues and the folks I meet in the shopping dives of The Village (we only called it that, it is no village but part of a major metropolis with coffee bars, many restaurants etc.). I know some wealthy people: a friend who's family supplies whisky and gin to all major supermarkets comes to mind but then again she is probably one of the most careful with money people I have met – and not only because she is Scottish.
Before last weekend, I have never come anywhere even close to anyone who is insanely rich!
How did I get close – only geographically, I hasten to add – to an insanely wealthy person? By spending four days in Oman at the invitation of the Omani research council. Now, this is something that I do often; I go places and discuss matters of science, innovation and (from time to time) entrepreneurial universities creep into the conversation. This time transforming universities to be more entrepreneurial was the conversation. Still, not important enough to get me near the inner circle of Sultan Qaboos bin Sa'id.
Please don't get too excited; I didn't meet the Sultan (although, one of his relations did attend the first part of the workshop at which I spoke). But for three days, I was driven in a car from the personal fleet of His Majesty, by one of the drivers of His Majesty: Jaba, a young man with a quick smile, quiet dignity and exceptional punctuality.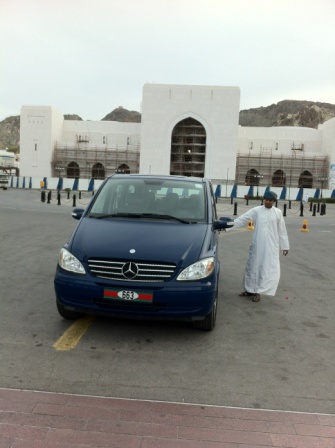 Oman is one of the Gulf states and as the rest of them is mostly desert. Even the Green Mountain is apparently far from green with vegetation. And just like other Gulf states, Oman has more oil than water. Sultan Qaboos is its absolute monarch – I can see it on the streets where his portrait is everywhere. Hence, he has an estimated wealth of about $700 million – mainly from oil.
Doing my reading, however, I started discovering an interesting side to Sultan Qaboos; and one that illustrates ones again that 'enlightened dictatorship' has a positive role to play in the development of nations. To begin with, he opened the country and started economic reforms after coming to power in 1970. In 1997, the Sultan of Oman decreed that women could stand for election to the majlis (the Consultative Council). In 2011, in part as a reaction to the Arab Spring, he stated that Oman's future is not with oil but with developing as a knowledge society – this links to why I was in Oman. I also met the first Omani female minister with portfolio – the Minister for Higher Education, one of the strongest women I have ever met.
But let us get back to the question whether or not it is possible to have too much money. It is already clear that a pauper the Sultan of Oman is not: there are ornaments of pure gold on the outside of his palace and his 'yacht' is a big monster of a ship. So far, I would have said 'yeah, the guy has more money than sense'.
And I would have stood by this were it not for the fact that the same guy has built a children's public library (the first public library in Oman) and is in the process of building one for adults; he was also behind building the opera house of Oman. These are all ways to integrate society and to bring awareness of a different culture.
I visited the Opera House thanks to the hospitality of Her Excellency the Minister of Education; and for an hour felt like a character straight out of the stories of Scheherazade.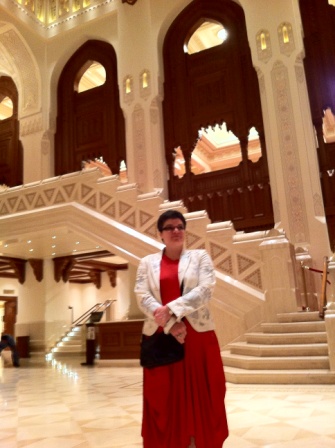 The Opera House took about seven years to build; not because there were delays but because the marbles were imported from Italy and France, the woods from Turkey and India, and all was hand carved. The organ was build in Germany and its tubes are from pure gold (not sure whether it makes difference to the sound but it sure speaks of wealth); the acoustics is the dream of any opera singer.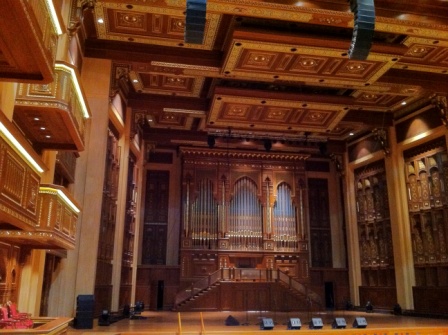 And you know what? It is not only that Sultan Qaboos paid for building the Opera House from his personal wealth but the costs are a state secret. He also, supported the Omani employees of the Opera House to spend time abroad to learn how to manage it. A proportion of the tickets for the shows are subsidised – in Oman it is possible to go to the opera for the equivalent of £8 ($12).
It is possible to have too much money only when one spends it all on one's own whims. When one is prepared to spend one's fortune for the benefit of others money can't be too much: it becomes a powerful vehicle for doing good.
What do you think, can one have too much money?