I know. I am fully aware that today is Thursday and it is a day for another book review. As my regular readers know, though, I have been a bit busy and pre-occupied with my day job; so I have not had time to prepare a thoughtful (ha, ha) book review.
Apart from that, we have a somewhat different problem. Couple of days ago our vacuum cleaner went on the blink. It was not supposed to happen! Then again, even Kirby vacuum cleaners have a life span, right?
This is our second Kirby for about twenty five years. Some may think that we are slow learners; after all Kirby is a very expensive, extremely heavy and not terribly versatile vacuum cleaner. It is also pricey to service and completely not worth repairing. What is its saving grace? It is extremely powerful and according to some claims it is the one to have if your house is full of allergic men at different ages. I still remember our middle son, after vacuuming the house, saying:
"Why can't we be like everyone else and get a Dyson?"
This was over ten years ago; now the opening to be like 'everyone else' is finally there because our second and last Kirby has given up the ghost.
And here we have a problem.
I, as a personal finance blogger of quality and style, want a sleek, beautiful, top of the range Dyson; the DC 40 Animal, to be specific. This vacuum cleaner has it all: Radial Root Cyclone Technology (whatever this may mean), self adjust for all floors, ball technology, it is light and durable. To top it all off it is also purple; which happens to be my favourite colour. Oh, yes; it also will set us back by £370 ($571)
Just have a look at this beauty.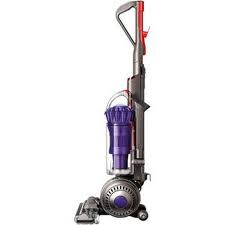 As my much more practical half, John is insisting on getting a Henry. Of all things! Just for the ones amongst you who have not come across this funny little thing, the Numatic Henry HVR200A is probably exactly the opposite of the sleek Dyson: it is…well, it looks like this.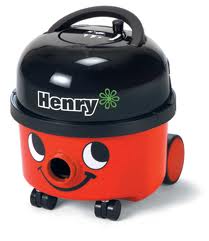 It can be worse, I suppose; John could have decided that this time we will be getting Hetty, which looks exactly like Henry but is pink. And I am not having a pink vacuum cleaner in the house.
Henry, though, has its fine points. It is reputedly very powerful, versatile, light and convenient, robust and used by all professional cleaners in the UK (or so I am told). Yes, it looks funny but it has only glowing reviews and costs only £99 ($153).
So here is the problem: state of the art, sleek and expensive technology against simplicity and good value for money. I can't make up my mind.
What do you think?