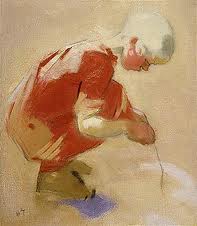 Last weekend I was in Helsinki, at the beginning of a rather tiring work trip – during the last two days I gave two high pressure, high level talks in two different countries. The first one was to be in Helsinki and since I have a very good friend (and colleague) there I decided to spend the weekend.
We had a lovely Sunday: we went to see Helene Schjerfebeck's paintings (stunning), had lunch in a wonderful restaurant and went to the cinema. All things that I may do on a Sunday despite the fact that I have not done them for a long time!
What was rather exceptional was that I bought myself a scarf – a hand painted silk and linen, purple and lovely scarf that set me back by £36 ($58). I know, I know that this is not too much by some people's standards. But I have never spent that much on something as trivial as a scarf – even if it is really a piece of art and a great example of Finish style and design.
This made me think.
For couple of years now I have been living cheap! There are no posh restaurants whenever we think about it although we still go out; in fact not forgetting to have fun and do the things that bring us joy is all that out 'I'm so worth it' account is about. I have stopped wanting things – I started craving experience and happenings. We don't have extravagant holidays – we started using our apartment(s) in Bulgaria much more. I have never lusted after labels but I have not bought stylish clothes for well over two years.
Do I feel deprived? Not really. Thinking about it, I realised that whilst I have been living cheap I have never felt cheap; I always kept some luxury in my life.
Here are my three luxuries.
My perfume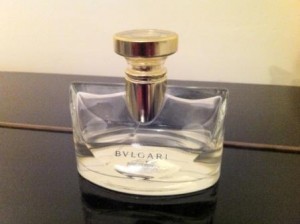 I love Bulgari; and it has nothing to do with the obvious link between the name and my country of origin. But the gentle, sweet (or citrus) smell makes me feel good. Not cheap but really worth it.
My haircut
Even when most worried about money I didn't consider changing my hairdresser. He is not cheap but we have a long standing relationship – and the relationship with one's hairdresser, I believe, is very intimate. More importantly, because we know each other so well I don't have to go into long explanations about what I want – I just say 'I want to look stunning when I leave your saloon'; and I always do!
My personal trainer
I have worked with a trainer for six-seven years now – the same one. Just like with my hairdresser we have a relationship and there is no need for many words – on either side. When I told him that by the end of October 'I want run like a cheetah and look like Venus' he just nodded and send me a programme. It is working!
What are the things that make allow you to live cheap without feeling cheap?