Are you considering opening an ISA but can't decide which one to choose?
Let me tell you about the Nutmeg ISA, then.
From my Nutmeg ISA review, you will learn about its distinguishing features, performance, and what that means for your venture into the investing world.
Finally, I will share the lessons I learned from investing in Nutmeg stocks and shares ISA for ten years. Why should you trust me?
Because my review is independent, I share what I have learned through experience and experimentation. John and I opened our Nutmeg ISA accounts in 2013 when Nutmeg was still in its infancy. We researched it and wrote about how Nutmeg works before opening accounts.
Please keep reading for what attracted us (and kept us loyal).
(If you decide to open a Nutmeg ISA during or after reading this article, you can do so using this link – join through The Money Principle, and you get six months FREE investing (no management fee); I will get a small commission allowing me to continue researching and writing.)
Overview of Nutmeg Stocks and Shares ISA Features We Find Attractive
Here are the most attractive features of Nutmeg ISA:
It is low-cost compared to managed investment funds.
It is as passive investing as you can get and has low knowledge entry costs (e.g., you can invest without knowing much about the workings of the stock market, and you don't have to devote your life to researching stocks).
Nutmeg investment portfolios are researched, set up and re-balanced by prominent investing experts, including Nobel prize winners.
Nutmeg stocks and shares ISA is a tax-sheltered account, meaning you will be investing after-tax money, but investment growth and drawdown are not taxed (it is the opposite of retirement accounts).
Now, let's have a refresher on stocks and shares ISA and Nutmeg financial.
Stocks and Shares ISA: a definition
A Stocks and Shares ISA (ISA) is a tax-advantaged account available to residents of the United Kingdom. It allows individuals to invest money in various financial products, including stocks and shares, bonds, ETFs, index funds, mutual funds, and more.
The contributions made to an ISA are not subject to income tax, capital gains tax, or dividend tax, and any returns earned on investments held within an ISA are also tax-free.
Overall, ISAs provide individuals with a flexible and tax-efficient way to save and invest for their future financial goals. You can learn more about stocks and shares ISA investing here.
What is Nutmeg?
No, it is not an exotic spice.
Nutmeg is a UK-based online investment management company, or digital wealth manager, offering an easy and affordable way for individuals to invest in ETFs (Exchange Traded Funds). Nutmeg uses fully managed investment portfolios, where customers select one based on their risk preference, goals, and timeline.
Nutmeg was acquired by JPMorgan Chase & Co in June 2021. It was announced that Nutmeg would continue operating independently under its existing brand and management team and benefit from JPMorgan Chase & Co's expertise and resources.
Here is a detailed review of Nutmeg and all it offers.
Nutmeg ISAs on offer
Nutmeg offers the following types of ISA:
Nutmeg stocks and shares ISA (S&S ISA)
What is specific about Nutmeg stocks and shares ISA?
You can:
Open an ISA with £500.
Transfer cash and drip feed it into ETFs.
Select the investment style you favour.
Set the level of risk acceptable to you (this is easy to change).
Set regular monthly contributions or transfer funds manually.
Use Nutmeg's nifty tools to set financial goals and follow your progress.
Check your investments, investment allocation by asset class, location and sector, fees, etc.
Nutmeg Lifetime ISA (LISA)
Nutmeg Lifetime ISA helps investors buy their first home or contribute towards retirement.
You can open a LISA with £100 if you are a British resident aged 18 to 39 and contribute a maximum of £4,000 per year till you reach 50. The Government will add a 25% bonus, or up to £1000, per year.
Nutmeg Junior ISA (JISA)
Nutmeg Junior ISA is a tax-free ISA opened by a parent or a guardian for a child 18 years and younger. The child must live in the UK.
Nutmeg Stocks and Shares ISA performance: how did our accounts do?
We have two stocks and shares Nutmeg ISA accounts – one is mine, and one is John's (for new readers, John is my husband). We opened our accounts in 2013, but John opened his in April, and I opened mine in November.
I'll show you how our ISA Nutmeg accounts have performed, but here is what you must know before that:
We always contributed equally to our Nutmeg ISAs – ISA is an individual account, but this doesn't mean you cannot share. (Okay, I have contributed slightly over £1,000 more, but this is small fish.)
John has always been the more cautious of us, and initially, he set his risk level at 5; he changed his risk level to 8 only after years of watching and reminders by the Nutmeg team that it doesn't match the results of their survey.
Being the more adventurous, I set my risk level at nine from the outset. I changed that and will tell you about it later (it was a mistake, but I would rather see it as a lesson).
(Please note that I have kept the performance to 2021 – the next two years deserve separate attention. It is enough to say that our accounts have not lost money; it is more that they behave like yo-yos – they go up and down.)
Here is how our Nutmeg ISA portfolios have performed since 2013:
Nutmeg ISA performance overview (Maria)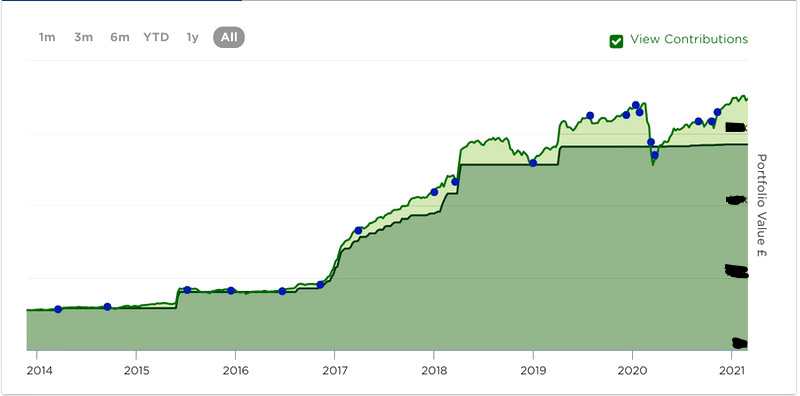 (Click on the image above to open Nutmeg stocks and shares ISA with six months of FREE investing.)
Nutmeg ISA performance overview (John)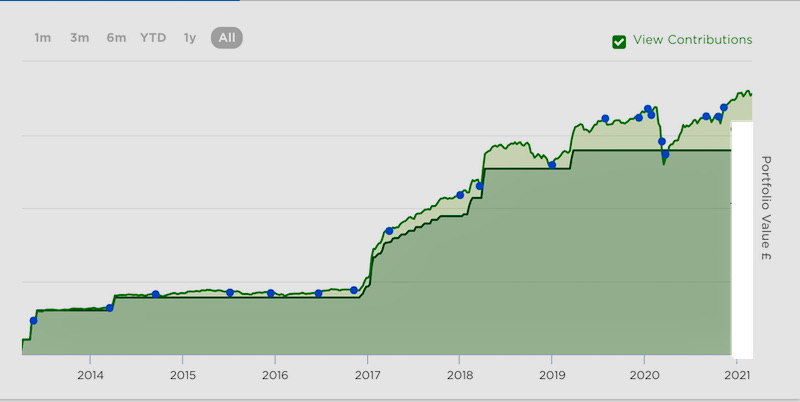 (Click on the image above to open Nutmeg stocks and shares ISA with six months of FREE investing.)
Nutmeg ISA performance over the last year (Maria)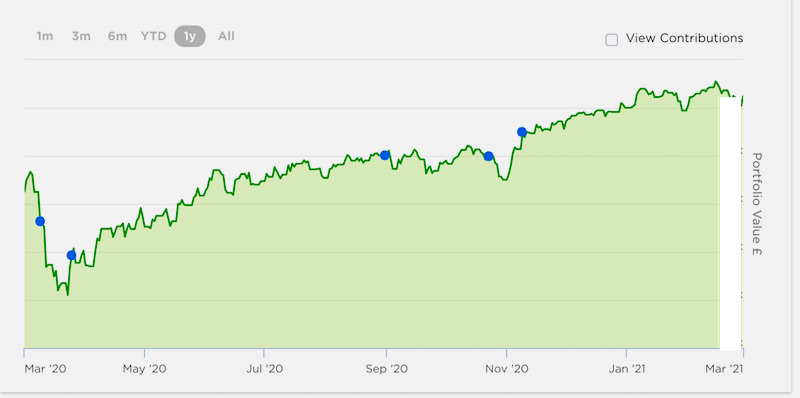 (Click on the image above to open Nutmeg stocks and shares ISA with six months of FREE investing.)
Nutmeg ISA performance over the last year (John)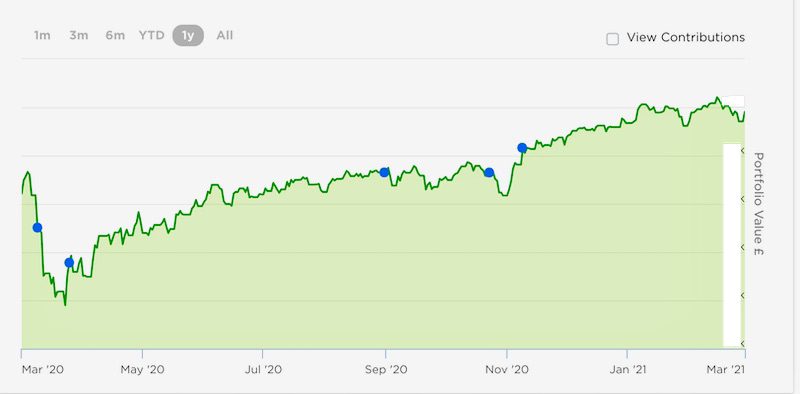 (Click on the image above to open Nutmeg stocks and shares ISA with six months of FREE investing.)
Here are my observations:
Both portfolios have grown substantially. It is true that growth follows consistent investing and starts accelerating after four to five years.
It has been a wild run for stocks and shares ISAs – mine has been much more volatile. (Remember, my portfolio was high risk from the outset.)
My Nutmeg ISA has returned 39% overall, and John's has returned 48%. Somewhere along the way, John's stocks and shares Nutmeg ISA overtook mine and performed better. What can explain the nearly 10% difference?
I believe there are two reasons for John's portfolio to perform better than mine.
First, his risk was moderate for the first four years, meaning that while his ISA didn't gain spectacularly, it didn't dip below what he contributed. Mine did. Here is when:
| | | | | | |
| --- | --- | --- | --- | --- | --- |
| | October 2014 | Aug-Sept 2015 | Jan-Feb 2016 | December 2018 | 25 March 2020 |
| Maria's Nutmeg ISA dips | x | x | x | x | 6% below the contribution |
| John's Nutmeg ISA dips | | | | | 3.8% below the contribution |
While my stocks and shares ISA dipped below contribution five times in the last eight years, John's ISA dipped only once. The conservative initial risk setting cut his losses and made steady but modest gains. Later, John's account accommodated the wider swings going hand in hand with a higher risk setting.
And second, after the March 2020 drop, I did what I always tell you not to do – I chickened out and lowered the risk on my Nutmeg investment. John did nothing! Next, the markets swung up, and I found myself in the position everyone who succumbs to fear does – I caught the loss but not the gain.
Lessons from ten years investing in a Nutmeg Stocks and Shares ISA
Let me level up with you – our Nutmeg ISA accounts are not a highway to immense wealth. They are more like the scenic road we navigate with a pack mule. Still, opening an ISA with Nutmeg is very much worth it because:
Nutmeg investing is as passive as investing can be.
Nutmeg ISA returns steadily at approximately 5% per year after fees (even when you do silly things like the ones I did).
It drops in times of market crisis, but the loss is less than the index.
There are some lessons I must share (and you must take note of them because they come from experience).
Lesson 1: Open your stocks and shares ISA now, don't ponder
When it comes to our cash, I tend to ponder.
Shall I open a stocks and shares ISA?
What if I lose it all?
I learned it is best to open an ISA immediately and not ponder. Because opening stocks and shares ISA is like planting a seed – the tree will take years to mature and even longer to bear fruit.
Lesson 2: Minimise your fees
Nutmeg, like other online wealth managers, charges low fees.
This matters in the long run.
Lesson 3: Contribute regularly to your stocks and shares ISA
One thing that the last year taught me is that the stock market is a wild ride. My Nutmeg ISA loses and makes thousands of pounds from one day to the next.
'Oh, good!' – you may think. This investing lark is easy and profitable – I must buy low and sell high.
Yes, that is technically correct, except you never know how the market will go. You may end up buying high and selling low.
A way around that is to contribute to your Nutmeg stocks and shares ISA every month without fail. Things have a way of evening themselves out.
(The technical term for that is 'dollar-cost averaging,' but ultimately, it is a fancy name for a simple action.)
Lesson 4: Don't lose your cool
Don't lose your cool, and never sell on a downward swing.
I did that and will never live it down – John keeps reminding me that his much more detached attitude is trumping my engaged investing.
The market swings; sit it out.
Lesson 5: Look over the horizon
This one sounds poetic, but it is not.
Have sufficient easy-access funds, so you don't have to draw down your ISA in the next two years.
Why two years?
Because this is the way to prove your stocks and shares ISA against large market drops – even a decline of over 25% recovers within a year to eighteen months. (This is what analysis of past crashes shows.)
Nutmeg ISA Review: the verdict
Nutmeg Stocks and Shares ISA is no 'stairway to heaven', but Nutmeg investing is a slow and steady way to wealth.
Forget your fear of investing, leave your doubts behind and take advantage of a tax-free and passive investment method. Investing in Stocks and Shares ISA is a rollercoaster, and you must hold tight!
Don't wait!