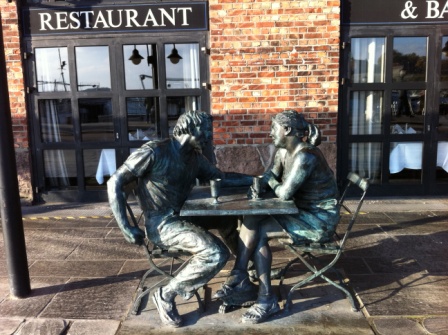 What an enjoyable weekend we had! A weekend when, I hope, history was made and the personal finance bloggers in the UK got together to have our first conference. Well, OK some of the UK personal finance bloggers met but it is a start; apart from that I believe that quality is what counts 🙂 and the ones who didn't come will be so sorry when they hear about the fruitful fun we had that next year will join us. And the fact that we met people from other niches and advertisers only added buzz to the event.
This seems to me to be part of a broader movement of alignment and organising of the personal finance landscape in the UK. Write on Finance Blog Up was organised by Karen of Help Me to Save and speaker included Emma of Zero Credit, Richard of imutual and the one and only Miss Thrifty. In another development, Ash and Jay of the Sterling Effort started a ranking of UK personal finance blogs – this is to be cleaned of bugs and made more stable, the lads assure me, during the coming weeks.
It was also great to meet long standing virtual friends (Ash and Jay of the Sterling Effort and Adam of the Magical Penny), catch up with friends (Elaine of Mortgage Free in Three) and make some new friends (Jenny and Greg of The Discount Coder Blog). And many others…
And of course we met Paul Knott, author of Ouch! – great presentation, great writing tips and one these in particular gave me the opening I needed to introduce myself as the Mistress Supreme of The Money Principle when on a panel. It works! As to Ouch! I'll be writing more about it in couple of week – but any book on personal finance that manages to sneak in BD*M, s*x and scatology can't be boring (sorry about the stars but Google are telling me that search engines will block my side because there are dult themes; you know me – I can't include an adult theme to save my life :)).
In brief, the weekend was interesting, fruitful and enjoyable; the beer was great and personal finance bloggers in the UK are getting together. Let's hope that this is the first step of a long and exciting journey.
Also, The Money Principle was included in the following carnivals of personal finance last week:
Yakezie Carnival at Financial Management Blog
Wealth Artisan's FinCarn at Wealth Artisan
Carn. of Financial Camaraderie at PlantingMoneySeeds
Carnival of MoneyPros at The College Investor
Carnival of Retirement at Club Thrifty
Thanks and speak soon.
PS: I took this photo in Oslo several months back.