Tuesday last week, our last day in Switzerland, saw Maria off to Bern for work.  What could Philip and I do? Go to Bern too? I've never been.
The two of us would spend SFr102 (£70, $112) on travel alone. There is the Paul Klee exhibition.  Now I love Bauhaus art – Klee, Kandinsky and that lot. It was a fascinating time in the art world but would a highly active 11 year old be impressed?  He loved Picasso in Madrid some years ago – until he saw Guernica which frightened him as it does anyone.  Would he take to more? It was a risk.
Thinking about it, we could just hang out in Lausanne then the penny dropped – France was over the water on the south side of Lake Geneva and there were ferries.  How about sampling the beach over there to see which had the best stone skimming?  Or just to say we had been to France?
What's this about stone skimming (stone skipping in the US)?  It is a father-son thing but the physics is fascinating.  You have to find the right stone, thin, flat, not too light, smooth and ideally round.  Then you choose the right place to skim and hit the water without imparting a twist in the flight, at the right angle and at the top of any wave.  20 degrees is supposed to be optimal.  Getting it to bounce repeatedly is the key, in as straight a line and as far as possible.  There is a World Stone Skimming Championship held every year in Scotland where the target is to skim over 60 metres across a bay open to the sea – much more difficult than across a still lake or river.  But unless you are Scottish, possibly English, Welsh or from the Antipodes, forget about winning.  Check the results – it is a sign of a mis-spent youth I'm afraid.  And if you want number of bounces, the current Guinness world record is 51 bounces across the River Allegheny in Pennsylvania.
We went to Lausanne to see Maria off and wandered around by the boats and the playgrounds. Then lunch.  We found La Pizzeria Boccolino – yes when in doubt, mangiamo italiano!  There we were offered a wide variety of pizzas including a David Cameron, Francois Hollande and others.  Now the idea of eating a politician may appeal, but given we were going on a boat, we didn't want to throw up afterwards.  So Philip had a margherita and I had the plat du jour which was chicken escalopes in a Moroccan sauce, ice cream (of course) all washed down with a Fanta and a beer respectively.  Very nice.  Total cost – SFr 49.50.  Not bad for Switzerland.
The famous Belle Epoche paddle steamers, built between 1904 and 1927, are no longer running more's the pity at least on the cross-lake routes.  It will be sad if these eight iconic vessels are allowed to rot – there is an association for their restoration but it struggles to raise funds.  The boat trip to Evian-les-Bains on the modern Leman was great and we arrived in France only 35 minutes later.  The return trip cost SFr51 for the two of us.
We wandered along the many marinas and saw this.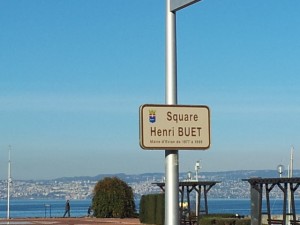 Switzerland is in the background but does the Academie Francaise know?  Square Henri Buet?  What's wrong with Place?  At least it wasn't Henry Buet Square.  Yuk.  I hope the mayor didn't end up in the Bastille.  Wait – Buet was the mayor in the '90s.  Hmm.  I couldn't resist and took the photo but if you think I made it up, check this.
We found some places to skim stones but none of them made it across the lake.  Well it is some 10km wide at that point.  However we did conclude that skimming was better in France – there were many more stones, more worn and rounded and more good places.   The best sites were skimming across the still water of a marina, hoping not to hit a moored boat.
After a couple of hours in France, we legged it back to the ferry.  This is a photo from the stern of the Leman as the sun went down, happy, refreshed and not a painting viewed.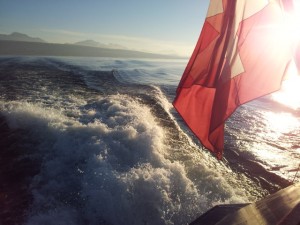 For a total cost of SFr100.50 plus a croissant or two on the boat, surely a better bargain than paintings in Bern.  Sorry about the culture.