That's it! You are determined to start investing, and all you need is some sound and reliable investing for women tips.
You also could do with some inspiration and go to the internet for it.
What do you find when you search for top investors?
A row of middle-aged, mainly white men, smiling brightly into the camera.
Where are the women?
Let me tell you – female investors are rocking the investment world, and they started just like you – apprehensive but curious and determined to learn. Google's algorithms are yet to catch up to this fact.
Do you want to hear the lessons that five top female investors have for you? Do you need inspiration?
Keep reading and learning. Then, open your first investing account and start contributing.
Numbers on Women and Investing – Not a Pretty Picture
Reliable numbers characterising women and investing are hard to come by.
Some studies claim that approximately 30% of women (in the UK and the US) invest outside their pensions, compared with nearly half of the men.
Others come up with slightly higher numbers, but the gap persists.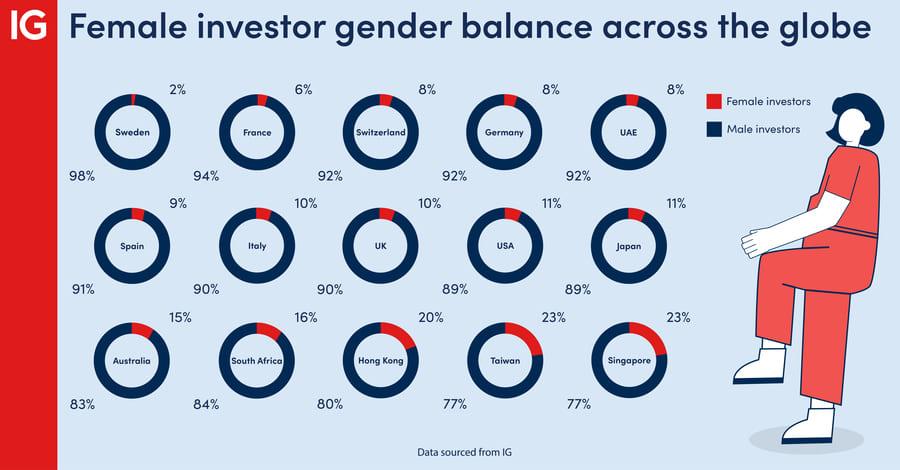 Source IG
Analysis of official data by AJ Bell demonstrates that only 35% of ISA investors (25-30 years old) are women, while 65% in the same age group are men. Women prefer to save in Cash ISAs. This gap persists for older age groups and results in a large wealth gap.
Furthermore, women investors have a more conservative approach, focusing on long-term gains. This often leads to more stable returns, and studies show that female investors outperformed their male counterparts by about 0.5% annually.
Why do so few women invest?
Many will refer to the gender pay gap here. And I get it – on average, women earn less. But this is only one of the factors keeping female investors back.
Women also believe they lack financial literacy, view investing as male-dominated and are concerned about the risks associated with investing.
Shall I tell you what I believe?
I believe you can learn – ignorance, including deficiencies in financial literacy, is easily remedied.
Yes, it appears that investing is an exclusively boys' club, but it doesn't have to be like that. Don't be blinded by the maths and fancy graphs – much of investing is about common sense and imagination.
Do Women and Men Invest Differently?
There is evidence that women prefer a different investing style than men.
Overall, women tend to adopt a more conservative approach. They are not necessarily risk-averse but rather risk-aware. This results in a preference for long-term growth and prioritising stability in their portfolios. Such an approach focuses on the bigger picture, emphasizing consistent growth and compounding interest, which can lead to significant gains over time.
On the flip side, men often have a more aggressive investment attitude. Their strategies lean towards chasing short-term gains, characterised by frequent trading and a higher appetite for risk. This approach can yield high returns quickly, especially in bullish markets, but it's also susceptible to substantial losses when markets turn.
Both styles have their merits. Women's focus on long-term stability can safeguard against market volatility, while men's pursuit of quick gains can capitalise on emerging market opportunities.
The key lies in striking a balance. A diversified portfolio that blends conservative and aggressive strategies can harness the strengths of each approach. By understanding and integrating the advantages of both styles, investors can craft resilient and dynamic investment portfolios.
Top Contemporary Female Investors and the Lessons They Teach Us
Have you heard about Hetty Green? She was also known as the 'she-wolf of Wall Street' and was one of the most powerful financiers in the world in the late 19th century. Hetty Green is an inspiration, but I'll tell you about five contemporary female investors below.
#1. Abigail Johnson (CEO of Fidelity Investments)
Abigail Johnson was born in 1961 and is the granddaughter of Edward C. Johnson II, the founder of Fidelity Investments. She earned a bachelor's degree in art history from Hobart and William Smith Colleges and later an MBA from Harvard Business School.
Abigail began her journey at Fidelity as an equity portfolio manager in 1988. Over the years, she handled diverse roles, gaining comprehensive experience across the firm. In the mid-1990s, she was promoted to an executive role in Fidelity's mutual fund division. By 2001, she was overseeing its asset management and other key departments.
In 2012, she became president of Fidelity's financial services division, and in 2014,
she took on the CEO role, succeeding her father, Edward "Ned" C. Johnson III. In 2016, Abigail added the title of chairman to her responsibilities, solidifying her position at the company's helm.
Under Abigail Johnson's leadership, Fidelity grew in various sectors, especially brokerage and retirement services. She championed technological innovations, with a notable push towards integrating blockchain technology and exploring the potential of cryptocurrencies.
Abigail Johnson has been consistently recognized as one of the most powerful women in business. Her leadership saw Fidelity solidifying its position as one of the leading global asset managers, with trillions of assets under management.
Abigail is also known for advocating greater diversity in the finance industry and emphasizing the importance of financial literacy.
Lessons:
Lesson 1: The importance of early exposure to the world of finance.
Lesson 2: Embrace calculated risks to reap significant rewards.
Lesson 3: Continual learning and adaptation in the ever-evolving world of finance.
#2. Sallie Krawcheck (CEO and Co-founder Ellevest)
Sallie Krawcheck grew up in Charleston, South Carolina. She obtained her undergraduate degree from the University of North Carolina at Chapel Hill and later earned an MBA from Columbia Business School.
Krawcheck began her career in the 1980s as an equity analyst at Salomon Brothers, where her work covering Wall Street firms gained her notable recognition. Her reputation grew when she took on leadership roles at Citigroup. She served as the CEO of Smith Barney, Citigroup's wealth management division, and later as the CFO of the entire Citigroup.
Post her roles in major banks, Krawcheck became a strong advocate for women in the finance industry. Recognizing a gap in the market, she co-founded Ellevest, a digital financial advisory platform specifically designed for women.
Beyond her corporate roles, Krawcheck has been a public voice for ethics in finance, diversity, and women's economic empowerment. She's also the author of "Own It: The Power of Women at Work," where she delves into women's potential in reshaping the business world.
Lessons:
Lesson 1: Recognize the specific financial needs and goals of women.
Lesson 2: Empowerment through financial literacy and accessibility.
Lesson 3: Focus on inclusivity and diversity within the financial industry.
3. Mellody Hobson (President and Co-CEO of Ariel Investments)
Born in Chicago in 1969, Mellody Hobson graduated from Princeton University in 1991 with a degree in Woodrow Wilson School of International Relations and Public Policy.
Shortly after graduating, Hobson joined Ariel Investments, a Chicago-based investment firm. She rapidly climbed the ranks within the company. By 2000, she became the firm's President, a position she held for many years. Under her leadership, Ariel Investments became a leading mutual fund company.
Beyond her corporate responsibilities, Hobson is well-known for her advocacy of financial literacy and for championing the importance of diversity in the corporate world. She's been a regular contributor to financial news programs and a spokesperson for financial education's value.
Mellody's influence extends beyond finance. She's been involved with several educational and non-profit institutions. She's also been consistently listed among the most influential women in business by various publications.
(A piece of trivia) Mellody Hobson is married to filmmaker George Lucas, and they have been notable philanthropists, especially in education.
Lessons:
Lesson 1: The power of diversification in an investment portfolio.
Lesson 2: Patience pays off; it's a marathon, not a sprint.
Lesson 3: Always keep an eye out for undervalued assets.
#4. Mary Callahan Erdoes (CEO of J.P Morgan Assets and Wealth Management)
Mary Callahan Erdoes was born in 1967. She earned her undergraduate degree from Georgetown University and an MBA from Harvard Business School.
Erdoes began her career in finance at Stein Roe & Farnham, an investment management company. Later, she joined Bankers Trust, working in corporate finance, merchant banking, and high-yield debt underwriting. In 1996, Erdoes joined J.P. Morgan Asset Management, and her trajectory at the bank has been meteoric. She started as the head of the fixed-income division and quickly rose through the ranks. By 2005, she was heading the bank's investment solutions team.
In 2009, Erdoes was named the CEO of J.P. Morgan Asset & Wealth Management, one of the bank's most significant and profitable divisions. Under her leadership, the division saw substantial growth, with assets under management reaching trillions of dollars. Throughout her tenure, Erdoes has been instrumental in ensuring the bank's Asset & Wealth Management division remains a global leader. Her influence in finance is reflected in her consistent appearances on lists of the most powerful women in banking and finance.
Beyond her day-to-day responsibilities, Erdoes has been a proponent of financial literacy, women in finance, and philanthropy, often speaking on these topics and supporting related causes.
Lessons:
Lesson 1: Prioritize a long-term vision over short-term gains.
Lesson 2: Trust in data and analytics, but don't underestimate the power of intuition.
Lesson 3: Always consider global trends and geopolitical factors.
#5. Cathie Wood (Founder and CEO of ARK Invest)
Cathie Wood is renowned in the investment community for her forward-thinking approaches and knack for identifying innovative technological trends.
Cathie Wood earned her bachelor's degree in finance and economics from the University of Southern California. Wood's career in finance began at Capital Group as an assistant economist. She then moved on to roles at Jennison Associates, Tupelo Capital Management, and AllianceBernstein, building a reputation as a thoughtful analyst and portfolio manager.
In 2014, Wood founded ARK Investment Management, an investment advisory firm focusing on disruptive innovation. Under her leadership, ARK became known for its high-conviction bets on technology companies, especially in genomics, fintech, and autonomous vehicles.
Cathie Wood and ARK gained significant attention for their early and bullish stance on Tesla, a position that ultimately delivered outstanding returns for ARK's investors.
Lessons:
Lesson 1: Embrace disruption. One of Wood's core investment philosophies is to invest in disruptive technologies. She believes that innovations such as electric vehicles, blockchain, and CRISPR gene editing are transformative and represent significant investment opportunities.
Lesson 2: Conviction is vital. Even when faced with scepticism from the broader market, Wood has shown that sticking to one's convictions, mainly when supported by thorough research, can lead to substantial rewards. Her stance on Tesla is a prime example of this.
Lesson 3: Continuous learning. Wood's investment strategy requires staying updated with technological and scientific advancements. This underscores the importance of continuous learning and adaptability in the ever-evolving world of finance.
Investing for Women – Be Inspired!
Venturing into the investing world can be daunting, with many options, terminologies, and potential risks. But every seasoned investor started with a crucial step—a willingness to begin.
Learn more about top female investors.
Be inspired, be audacious and invest. Your financial independence awaits!
Photo by Laura Chouette on Unsplash