Have you ever stayed in a hotel where the shower is a glass cubicle in the middle of the room? No? I am in a room like that now and this is the picture. If I wasn't dog tired, I would have been seriously spooked – taking a shower and looking at your bed is a rather uncomfortable feeling; there is the suspicion that it will all collapse and the water will run through the room, my computer, clothes and the rest. Also, there is the possibility that one forgets to draw the curtains; can you imagine taking a shower with the light on and the curtains open? Poor people in the apartment block opposite. But I am digressing.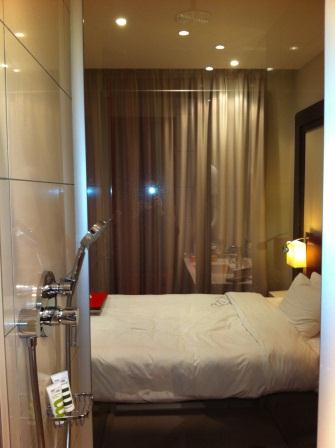 Tonight I am very tired to write any 'clever stuff' – after all in the last week I have been to South Africa and Poland. Too much travelling, this is, and that is not how 'clever stuff' is written. Not by me, anyway. John said something on the phone tonight that concerns me a bit; when I mentioned that I am not sure whether I'll write tonight he said: 'You may be all written out!' I really hope I am not written out: I am having too much fun doing it. So, back in the saddle and if tiredness is impeding profound meaning then I'll just try to be polite and tell you a story.
I would like to thank everybody who left a comment on our post about paying off our rather uncomfortably large debt. You are too many to reply to individually but we value each and every comment. Some of them, I found really emotional – guys, keep going and pay your debt off. Anyone can do it; you just have to draw on your internal strength and live your life as you have never done before.
I feel very humbled because all messages left here were overflowing with warmth and positivity. On another board, one I used to write on before I started The Money Principle, several people noted that I mentioned skiing, and haircuts etc. and pointed out that we obviously had/have a lifestyle that is not accessible to most people in debt. This may be true; but the take out of the story is not about that – it is about the fact that whatever your lifestyle is when you are paying debt off, you don't have to give up the things you do. The mastery is to learn to do them in different ways! This is what stays with you when the debt is gone and this is learning.
Now, I would like to pay homage to my Dad and tell you about his investment. My Dad came from a family of landowners – his grandfather was a rich landowner in the most fertile part of the country; honest, it is so fertile that the land is black. Anything one may put in the land grows there but it is mainly used for wheat – during the summer the fields look like liquid gold.
When I was little my Dad would tell me how he used to ride with his grandfather for days to see the land and to check on the people working it. And yes, my grandfather inherited some of the land; he was also an accountant (we are getting to the genealogy behind The Money Principle, it seems) and a wealthy man in his own right. My Dad was a communist; a proper one who believed that exploitation should be eliminated and that the way to do this is by 'expropriating the means of production'.
Simply put, my Dad was on the side of people who took the factories away from their owners and 'collectivised' the land. My grandfather went along with it (not that he did have much choice but he didn't resist or bemoan losing his land). My Dad went in the army and later, much later, he retired as a high ranking officer.
My Dad didn't invest – this went against his ideological convictions and against his core belief that 'labour and capital should be one'. He and my mum saved – out of habit (the WWII generation) and because they wanted to leave something behind for their children. Then the changes of the 1990s came, the currency collapsed and was devalued, and Bulgaria embraced wild and unrestricted capitalism. Oh, and my Dad lost all his savings; they were lucky to have paid their home and to have a summer house with land around it.
One thing that my Dad never saved on was my education! There was always money for my books, to travel and explore, to go to university. My Dad never said 'no' when it came to my education. He supported me not only through my undergraduate degree but also through my first PhD when he was already retired. My education was his only investment!
Thank you Dad; your only investment has paid off and I am very sad you are not around any longer to rejoice.
This is all for now, my friends. Now, it is time for rest.