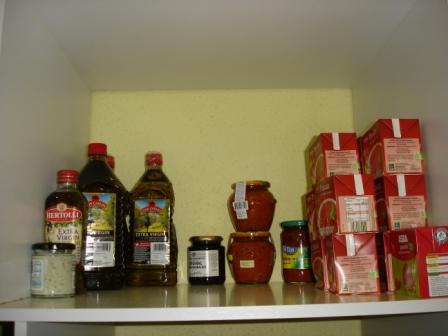 When I asked my friend Elaine to write the articles on store cupboards there had already been some talk about it and I knew that she had worked hard to create one for herself and her family. We, however, were still resisting. Thinking about it, I have another friend who has a store cupboard – and although her reasons for creating and maintaining it are probably different it follows very similar rules to the one that Elaine has.
Once Elaine's articles were in, and true to my promise that on this blog I will publish only practical suggestion I have already experimented with, we decided to 'jump in' with the masters of organisation and create our own store cupboard. We had to deal with three issues which very likely some of you are puzzling over as well. These were the issues of space, of construction and of content.
Space for our store cupboard
Like many readers our first reaction to creating a store cupboard was that we don't have the space. OK, we do live in a large house (another story, this one) but large houses, just like smaller ones, run out of space – the difference is in the absolute amount of stuff people accumulate and keep. Looking around we could not immediately see where to build the store cupboard – there was no readily available wall and no pantry that can be used.
To identify space for building a store cupboard one has to think outside what is already there and be prepared to change their arrangements – like most things store cupboards don't 'slot in' but need different ways of organising.
In our case, this meant that a wall cupboard of limited usefulness – it was too small for most things and too large for others – had to be take down; after that we had a wonderful wall calling for  some shelving.
Building the store cupboard
Now that we had the space we were ready to begin construction. This is the next learning hurdle – it is obvious that for a store cupboard one needs shelving but what shelving and where to get it. Here, John had to take the front seat – left to me, the shelving would have had to be ready made which probably would have consumed the projected savings of a store cupboard for a decade ahead and would not have fitted in the space we identified.
John, however, had already built simple but robust shelves around the house using material from B&Q.  He just stacks the shelves without screwing them together – the weight of what is on the shelves keeps the construction standing. This is what he did: precise measurement and some planning, a quick trip to B&Q Stockport (white melamine cut to size with each shelf 120cm wide, 53cm deep and 45cm high), two hours spent building shelving and, from time to time, cursing and there it was – we had the construction needed to create a store cupboard. The cost of this was £87 – we have already had return on the store cupboard that is one third of that.
Content of the store cupboard
Once we had the construction we moved to the content of the store cupboard. It is far from complete – for that matter could a store cupboard ever be complete – but we have already made a start on this one and have benefitted from creating it.
Because it is for storing food stuff that lasts, our store cupboard for now contains mainly beans and pulses, pasta and rice, passata and canned food for cooking (although since we cook from scratch this is only tomatoes and tuna), jars of my favourite tomato and pepper relish and loads of olive oil. We stock our store cupboard from different places but we ventured into Approved Foods for the first time – this is where our first big bargain came from. We bought 8 litres of Extra Virgin Olive oil for £17 instead of £35 – and oil is oil, whether it is close to its 'best before' date or not.
We decide what to stock for our store cupboard using not so much forward planning but historical data. I have mentioned before that I have records of all that we have bought and consumed in the last fourteen months or so. Having this helps us decide what to have in the store cupboard in three ways: first we know/can work out what we eat; second we can work out how much we consume over a certain period; and third, and very important for someone like me who doesn't remember prices, we can see how much things cost and how their price has developed historically.
So, for instance, now I know that we use 13 kg of flour per month; that we use 6 kg of white and 7 kg of wholemeal flour; and that we usually buy it for 60p per kg for white and about a pound a kg for wholemeal.  Next time a see a bargain I can recognise it and take advantage of it. And we have the space to keep it.
That is where we are on this one. To summarise, we learned three things:
Space for a store cupboard can be found but it needs one to think outside current arrangements.
A store cupboard can be build relatively quickly, easily and cheaply; readymade shelves are not necessary.
A store cupboard is a place where foods that keep can be stored. Content is not set – just start with something and let it emerge.
And yes, this is a picture of one compartment of our store cupboard and our best bargain.