You won't believe the great weekend I've had.
It all started as usual. On Saturday morning I expected my day to be spent on the weekly menu, shopping and, if lucky, I'd manage to squeeze in couple of blog posts.
Nothing went as expected, my friend.
While leisurely looking through old directories I found data on our net worth, monthly earning and spending records and retirement calculations. And I'm not talking records for the last couple of years; these are detailed records since January 2010.
Yes, you guessed it. A money nerd simply can't resist all this numbers. Hence, I spent a blissful weekend, engaged in casual empiricism. What I found has warmed my soul and brightened my outlook for our future. I'll tell you about this in a separate post during the coming week. but here is a bit of a preview.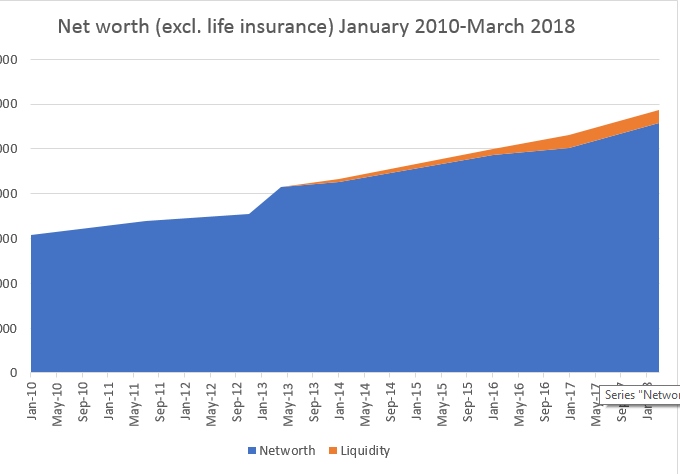 Also, yesterday John and I bought a car. How did this when I am so in favour of leasing cars?
It simple, friend: I'm trying to reduce our fixed monthly spending.
Yesterday we came across a Jeep Renegade (2016 reg.) and it is a deal we couldn't resist. (You'll be seeing pictures when the car has been delivered.) And if I'm honest, I've always wanted to drive something called 'renegade'.
AHA of the week
What is the insight about money that kept cropping up over the last week?
Here it goes:
To master your money, the most important thing to focus on your cash flow!
You can learn about cash flow from this post. In brief, to calculate your cash flow you need to know exactly what you earn and what you spend. After that:
If your cash flow is negative (e.g. you spend more than you earn) you are in debt and there is nothing you can do about it.
If your cash flow is neutral it can go either way; you can either tip into debt or you can build very modest savings.
If your cash flow is positive you very likely have savings (or if you are in debt you can pay it off).
There are only two steps to building wealth; both are about focus on your cash flow.
The first step is about achieving positive cash flow.
The second step is about increasing your positive cash flow.
This is it. It doesn't matter whether you are in debt or not, whether you have savings or not – increasingly your positive cash flow is the key to increasing your wealth.
Where have I been this week?
I have not travelled this week; neither geographically nor on the Web.
Not complaining.
What am I reading?
I've been reading a book called 'Money: Know More, Make More, Give More' by Rob Moore. Don't know what to tell you yet.
On the one hand I like it because Rob talks a lot about mentality, beliefs and values – all these stuff I believe is important, and often overlooked, when we talk about money.
On the other hand, I'm not sure I enjoy the padding (still, I may be annoyed by it because I'm an advanced student of money and it may be okay for a beginner).
Will let you know. For now, one take away is:
Your self-worth defines your net-worth.
Very true.
My favourite blog posts of the week
And here are my favourite blog posts of the week (these are not all about money, mind):
This is all from me for now; speak soon.
How has your weekend been? Did you do anything interesting?