Here is the thing! My jar is large and you can see it on the picture.
A long time ago it was full of Japanese peanuts; delicious but very bad for your waistline. After the peanuts were only a memory and there was a need for new trousers (or one of these naff waist-band expansion things) I decided to recycle the jar and use it for loose change. This was on the 5th January, this year.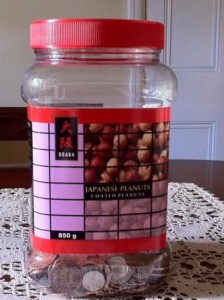 Now, this is a picture of the 'otherside of the jar' and as you can see there is some money in it. Close to £80, to be specific.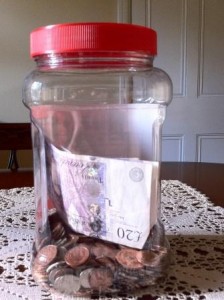 What are the rules? I (and very occasionally other members of the family) put in money that we have left over from other allocations. I, for instance, put in all that is left from my public transport allocation which also encourages me to walk and cycle more. More recently (sorry, John, I don't think I have told you about that) I have been adding money left over from our monthly cash spends (this is the money I take out every month for food, drink and coffee, son's pocket money, the window cleaner and the lady who irons).
It is adding up; in fact I think that by Christmas there will be enough in my jar for the celebratory dinner, a really good bottle of wine (with few exceptions the more one pays the better the wine) and even a present or two. If I don't decide to forget this year about Christmas, this is! Gosh, that would be sensible although extremely mean.
Do you have a jar and how large is it?