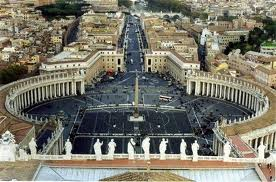 Yes I am in Rome; city of beautiful women, gallant men, wonderful food, splendid ice-cream and breaking infrastructure. It is rather surprising how quickly the spirit of downturn settles in – one can already see it and, let's face it, smell it in Rome. So many homeless people again, sleeping on the street.
I arrived yesterday and the first thing I did when I landed was to try and get some euros from a cash point machine at the airport. This is what I do: instead of getting my overseas currency in the UK, I go somewhere, find a cash point machine and get some local currency. So far it works without a glitch; except the time when in Mexico I realised that I have taken out the equivalent of three pounds but when I tried again my bank locked my card (apparently this is how fraud is done). Not yesterday – after doing everything, including putting in my pin code nothing happened. I suppose there was a fault with the international banking connections. The important thing was that I was at the airport in Rome having exactly 1 euro and 20 cents in my purse; and credit cards.
Getting to the hotel was an adventure: I got the train (paid for by credit card), walked for an hour and a half when my hotel is 10 minutes from Termini railway station, got in a hotel and asked for a taxi (paid for by credit card). So today, I still had my 1 euro and 20 cents.
The interesting thing is that I have had coffees, soft drinks etc. But whenever a colleague suggested having a drink I'll just say: 'Sorry, I have only 1 euro and 20 cents and have not managed to get to a cash point.' The answer is invariably: 'Oh, don't worry. I have loads of cash.'
So I am wondering whether I should take any cash out at all. At one level, it feels really wrong to have people pay for you. At another, I am very curious to see how long can this go on for?
Oh, and all credit card spending is expenses!