This guest post by Simon from Financial Expert introduces the investing platform Property Partner. It explains how alternative investments in property can reduce the risk of an investment portfolio, and how technology has simplified this process.
Introducing Property Partner
Property Partner is a type of a 'crowd-funding platform'. This is new language for what is actually a very traditional investment method: a collective investment.
A collective investment is simply where a money manager bundles many deposits from small investors and invests these in a wide array of underlying assets.
In this case, the assets are houses, apartments and student accommodation.
How does it work?
Property Partner handpicks properties to add to its web platform. Like an ordinary buyer, they obtain a property survey, estimate the cost of any repairs required, and produce a rental forecast.
An important figure is the net yield, i.e. how much net income will the property generate relative to the upfront cost.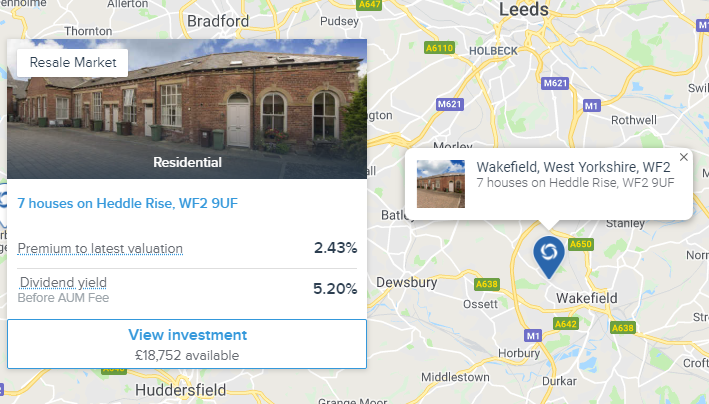 The property enters the funding stage. Users of the platform can review the research and documentation and pledge any amount from £50 upwards to purchase a share of the house.
When the funding is complete, Property Partner executes the transaction. A 'Special Purpose Vehicle' (i.e. a Limited Company) is incorporated which receives the funds and buys the property.
Investors are given a share in this company. This means that investors truly become the legal owners of the property, via the SPV. A lettings agent is appointed to fully manage the property and tenants. Rent and expenditure related to the property go through the SPV, and at the end of each month, the net yield is paid to the shareholders.
At each properties' five year anniversary, all investors are given an opportunity to sell their shares to other platform members at the latest professional market valuation to recoup their investment. If insufficient demand exists to allow all exiting investors to leave at this price, the underlying property will be sold, and the proceeds will be returned to investors. This mechanism assures investors that one way or another, they will see a cash return based on the real market value of the property after five years.
The technology makes a difficult process easy
The convenience of the buying process is impossible to overstate.
The interface allows you to review the key facts of properties currently open for funding at a glance. You enter the value of funds you wish to commit to the property and after submitting, all you need to do is wait.
After approximately 60 days, the property transaction has usually completed. You can expect to see monthly cash receipts in your Property Partner account on a monthly basis thereafter.
Within 30 minutes you can sign-up, fund an account and become a landlord, without any of the complexity, legal risk or time and effort.
Property partner charges an initial investment fee for its 'property sourcing' process and charges an annual account fee based on value. Other fees and taxes, such as letting agent fees and stamp duty, are paid within the SPVs themselves like any other property expenditure.
A secondary market solves the liquidity problem
Property partner allows users to sell their shareholdings to one another in a 'secondary market' on their website instantaneously.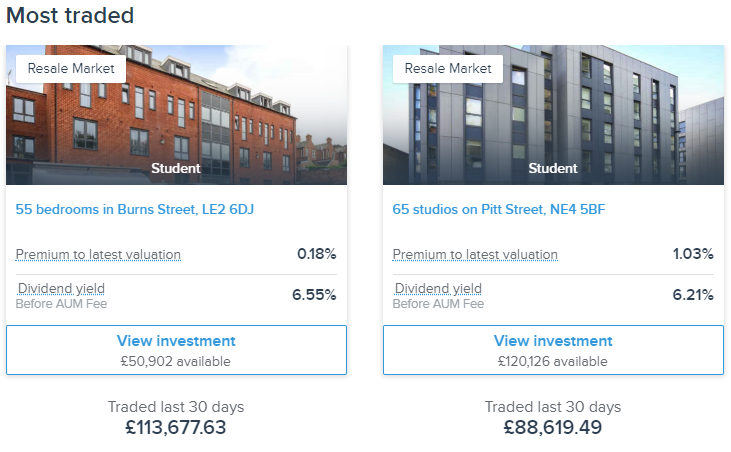 This has several advantages:
It brings a degree of liquidity to direct property investment which has never existed before. Traditionally a landlord would need three months to complete a sale of a property.
The secondary market allows new investors to spread their funds across live funding properties and existing properties. This allows a user to amass a portfolio of 20+ properties in one go, rather than wait for properties to gradually be added to the platform.
How Property Partner fits into an investment portfolio
Property investments are a long-standing asset class but have been difficult for ordinary investors to gain access to.
Even wealthier investors have dismissed property ownership because the traditional process required them to concentrate a large part of their portfolio in a single building. This violates the principle of 'don't keep your eggs in one basket'.
By including property in your portfolio, and by leveraging the Property Partner platform, you can reduce the risk of an investment portfolio in two ways:
By incorporating property, you will reduce your exposure to the overall ups and downs of the stock market and bond market. Shares, bonds, and properties all provide positive returns over the long term, but because their patterns of returns are different, they provide a smoother ride when combined together.
By spreading your property investment across 20+ properties, you can virtually eliminate the risks specific to any individual property. For example, if a house fails to find a tenant for several months, this will have little impact on the returns of a well diversified Property Partner account.
The risks
Property Partner might bring new innovations into the property investment scene but it also carries some general risks that cannot be eliminated by spreading money across many properties:
Platform risk
Property Partner has operated since 2013, and therefore is still a new company. The platform is still growing and developing its business model. It is not currently cash-flow generative for its owners and therefore like many other technology start-ups, Property Partner relies upon cash injections from shareholders to continue, such as their £15.9m funding round in March 2016.
There is a risk that if Property Partner fails to achieve economies of scale, or does not generate sufficient revenue, it may lose the support of its shareholders and cease trading.
If this were the case, the investor's holdings would not be directly affected. Because of the legal structure explained above, the properties are legally very separate from Property Partners' own assets and liabilities. Another property management company could be appointed to manage the properties and organise their sale. Upon sale, the proceeds of those properties would be returned to investors.
Liquidity risk
Property Partner offers a secondary market which offers the opportunity for investors to exit their investments early.
However, the effectiveness of this market is not guaranteed, and Property Partner takes pains to emphasise this on their website. In a downturn, for example, demand for the properties may dry up completely, leaving investors trapped in their investments until the five year anniversary when the property will be sold.
Price risk
The housing market carries a moderate degree of risk, and therefore this investment is only suitable for investors who have an appropriate level of risk tolerance.
In the UK in particular, there is a widespread falsehood that 'house prices can only ever go up'. While it is true that demand for housing continues to outstrip supply, this does not guarantee that prices will move ever upwards.
In fact, London recently witnessed a price drop of 2.9% in the six months to June 2019, which underlines this risk.
Overall: A property breakthrough for small investors
What Property Partner has achieved in the last five years has been impressive. With 10,000 investors and a £144m property portfolio, Property Partner has grown rapidly from its humble beginnings.
I personally invested in the platform in its first year, and I was excited to become a landlord and gain exposure to a property boom which was passing me by.
But what I think is most interesting about the platform is not the big numbers, but the small ones. The minimum investment of £50 per property means that an investment of just £1,000 can be fully diversified.
Although the platform carries risks, this is a game-changer for small investors who may have previously thought that owning property was simply out of reach.
Author bio: More articles by Simon about How to invest in property can be found at the website Financial-Expert.co.uk