This is the second instalment of The Money Principle focus on money – today, I made an inventory of our investments and savings.
This year has been a health, emotional, and investing rollercoaster, and my inventory is a testament to that. Still, our investments and savings' total value is up 10% on the year, which is the closest thing to a miracle we'd come in 2020.
Below, I'd break down this gain for you. This year my strategy, you'd notice, was different, and we grew our savings, not investments, considerably.
It may be a mistake in the long run, but I can take so much insecurity. Uncertainties around health, jobs, breaks, travel were enough; adding more to our investments with the markets going up and down so fast they gave me a whiplash was not smart.
But here is the detailed breakdown of the inventory of our investments and savings.
Stocks and shares ISA investments
I believe that ISA is a splendidly efficient investment (stocks and shares ISA that is) second only to investing in a pension scheme. Therefore, it is not surprising that John and I have several stocks and shares ISAs (John has one, and I have three).
(Please remember that although you can have several stocks and shares ISAs, you can invest in only one of these within the same tax year.)
Nutmeg ISA performance
John and I have invested in Nutmeg ISA since 2013, and this is our preferred digital wealth manager.
We like that Nutmeg investing is passive, that our portfolios are managed and that the fees are low comparatively speaking. How about the returns, you may ask?
Good question. And one that is appropriate for 2020 – after all, the strengths of investment platforms are best measured in times of trouble and volatility.
In 2020, my Nutmeg ISA returned approximately 1%, and John's Nutmeg ISA around 4%.
Why the difference, you may ask?
It is entirely my fault and an example you shouldn't follow. You know, when personal finance masters tell you not to chicken out when the markets play around? You should listen.
After the March drop in the market (a 27% drop in my Nutmeg portfolio), I got cold feet and lowered my risk level for several weeks. By the time I got my risk level to what it was initially, the market had jumped up, and I missed out on a significant gain. John didn't mess about with his portfolio; he just waited it out and came trumps.
Vanguard UK ISA
I have an ISA with Vanguard UK.
That one did very well this year, but because I did the exact opposite to what I did to my Nutmeg ISA – I invested in my Vanguard ISA in early April when the markets were still down.
My Vanguard UK ISA returned 14% this year because I found my backbone and invested when others were fearful.
Blue Whale Capital ISA
I also have an ISA with Blue Whale Capital (I'll review this investment fund in the new year because, as you would see, it is well worth investing in).
I opened this ISA last year as an experiment and because I found the rationale behind the fund compelling – it consists of approximately 25 shares that are continuously researched and updated. It is managed and low cost.
In 2020, my Blue Whale Capital ISA returned 19%.
Comparison of our stocks and shares ISA returns in 2020
As you can see, our stocks and shares ISAs have achieved vastly different returns in 2020, and they were all subject to the exceptional volatility of the stock markets.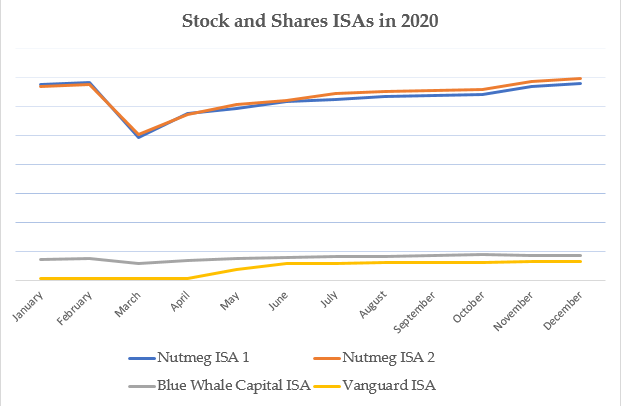 In a nutshell:
Nutmeg ISA 1 returned less than 1%.
Nutmeg ISA 2 returned 4%.
Vanguard ISA returned 14%.
Blue Whale Capital ISA returned 19%.
Blue Whale Capital is the undisputed winner in 2020 (and probably would be my choice to invest after April 2021).
Business investments
The matter with our business investments is a bit thorny this year.
One, likely, the online business's value was going up and down like the stock market. I chose not to bother with a new valuation because I have no intention of selling. Still, my online income was down, which is not surprising – all advertising income more or less collapsed at certain times during 2020.
Two, when we decided to invest in an MOT and car service garage, I told you this is an investment that one must be a real klutz to fail. Guess what? I didn't reckon on facing a Biblical plague. In short, the garage has not worked to capacity for a substantial part of the year, and I had to revise down its valuation.
Murky waters, friends, and we will see how these investments will pen out in 2021 – watch this space.
For this audit, I have kept the value of business investments constant over the year.
Savings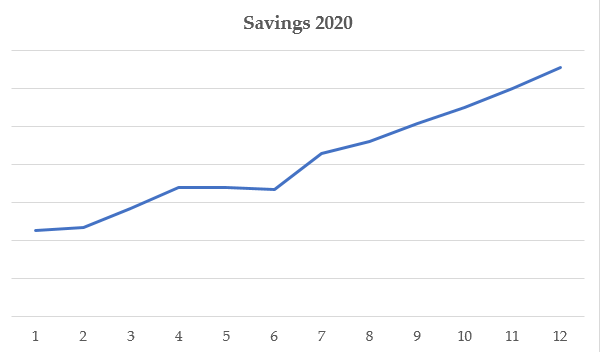 I already told you that in 2020 we bulked up our savings rather than investing aggressively in our ISAs (except my investment in Vanguard ISA).
Some may say that this is too cautious. I remember asking my friend J. Money several years back why he keeps so much savings (instead of paying off his mortgage, for example), and his answer was:
"Because I like cash."
Guest what? In 2020 I started liking cash, as in money kept in a savings account, as well.
It is not about being scared of the future; it is about looking forward to a future full of opportunities and making sure that we have the cash it would take to grasp them.
Our savings have grown by 150% in 2020. And it warms my heart.
Gold coins
Some years back, I bought gold sovereigns as safety, not investment.
In 2020, gold prices increased considerably, so my gold coins are worth 18% more today than they were worth at the beginning of the year.
Final words
I started this inventory of our investments and saving with trepidation – after all, 2020 was an unpleasant year. (Please note my English restraint here. If I were to give free rein to my Bulgarian origins, my feelings about 2020 would have been expressed in much stronger terms.)
What I found is not that bad. Let's see how things will progress in 2021 and hope that economies will start picking up and equity markets won't disintegrate.
What are my two lessons from my inventory of our savings and investments?
Lesson one: Don't mess about with your investments but wait it out and ride the storm. Kneejerk intervention means that 'you lose big and gain small'.
Lesson two: Blue Whale Capital trumps the other ISAs. Um.
What did you find during your inventory of savings and investments?
Haven't you done it yet? Go on, what are you waiting for?