Editor's note:Today, I have a great guest post from Chris. Chris started a digital marketing business that focuses on freelance writing, content marketing, and SEO — all while working full-time and playing dad to two kids. You can check out his blog – Money Mozart to read more.
With the COVID-19 pandemic sweeping the globe at the moment and leaving havoc in its wake, you may well find yourself with less income than you would typically earn. Reduced income could be due to reduced hours at the least, or redundancy at worst. This can cause a lot of stress and financial disaster if you don't manage the situation with aplomb.
It sucks, but it is the reality we are all faced with, so it is paramount to learn how to make the best of the scenario quickly. Just know you are not alone. Around 46 million people are estimated to be furloughed in the United States, and about 9 million in the United Kingdom. Many people are going through this mess alongside you.
That's not to mention the rest of the world or underprivileged sector who do not have stable jobs to begin with.
There are, however, many things you can do to manage your finances so that you don't end up in serious trouble later down the line.
Here's how to manage your money when furloughed.
Know Your Furlough Conditions
Firstly, understand what it means being furloughed, and what your particular case entails. A furlough is essentially a temporary layoff. This can mean you are off the payroll entirely for now, or you are working fewer hours either at essential premises or from home where possible.
When you are told about being furloughed, either your boss or someone from HR should explain to you precisely what is going to happen.
In this interview, you may want to ask questions like:
How many hours or days will be affected by furlough conditions?
What will my earnings be under these conditions?
Will my taxes be adjusted accordingly?
Will I still get company health insurance?
Does furlough impact my retirement policies at all?
Can I use annual leave days towards furlough days, and will I still get annual leave?
If you think of anything else later, get in touch with HR to ask them about it.
Make sure you are very clear on what exactly you will be entitled to from your company money and benefit-wise until the global situation starts to improve.
Manage Your Money and Know Your Finances Inside Out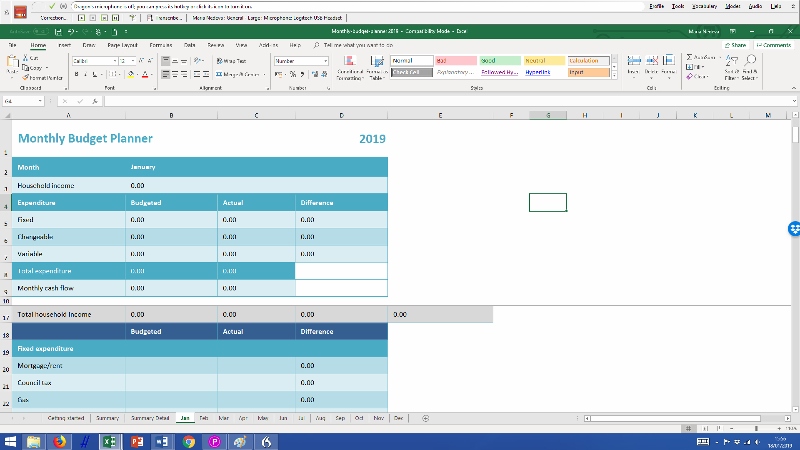 Take some time to go through your expenses if you have not got a good idea of them already. Having a good understanding of your finances will give you a sense of confidence and control.
Get stuck into the details and account for even the small cash spends of just popping out to the shop for milk and bread.
It helps to keep a notebook and write down every expense at the end of each day.
If you have a family, you need to account for everyone in the house's expenses.
Also, account for everyone in the house who is earning income, even if it a small amount.
Capture your larger expenses like home loan or rental, medical expenses, credit card bills, water and gas, car repayments, insurances, etc.
Adjust Your Budget
Once you have a handle on what your furlough income and expenses are each month, see where you can start to make some adjustments. If you have gone through your expenses list carefully, you will be able to see what items are your needs and what is just cream on the top.
Here are some ways you can cut back:
Many insurance companies are negotiable about premiums under the circumstances. Talk to your broker about how they can help you. DO NOT cancel all your policies. There may be one or two that are not serving you, but core health insurance and car insurance policies should be kept at all costs.
Sift through the crucial expenditure like household utilities, essential food items, and chronic meds versus the nice-to-haves. For example, if you have Netflix, do you need full cable as well? Or are there luxury items on your grocery list that can be eliminated for a while? Cut out as much from your nice-to-have list as you can.
Grow and save: if you have even a small piece of land, start a veggie and herb garden. You most likely won't be able to subsist entirely on this, but it will help reduce the grocery bill. Also, reconsider how often and what cuts of meat you eat. Making curries and stews goes a lot further.
If things get more complicated, try offloading extra material items. I.e., if you have two cars but are both working from home, do you need to keep both vehicles? You will save on purchase repayments, insurance payments, licensing costs, and fuel costs by selling one car.
With the above in mind, you will need to create a spending plan that fits your personal needs – and then stick to it strictly. You can use The Money Principle ERR method for money management.
Don't Turn Away from Payments You Can't Make
Not being able to pay the bills is stress-inducing enough, but by hiding away from your creditors, you are only going to make things more difficult for yourself and the people you owe money. Give them a call, ask about how they are coping with the Covid-19 situation, and then have an open conversation about where you are at financially.
Many companies are offering personalized payment plan options during this time, so chat with your creditors about what is and is not possible for you to do right now. You will both feel more comfortable for having dealt with the pink elephant in the room.
There are several banks and loan companies offering repayment deferrals, which may well help you to survive this period. For example, if after discussing your situation with your bank it is decided you cannot meet your mortgage requirements, they may come up either with a figure you can afford, or let you take a three-month break from payments.
Each service provider will run things differently. One may require you to make up payments as soon as you can start making mortgage payments again, while others may add these on after the forbearance period.
Just be careful though, some of these options do come with strings attached, and you could end up in a more stressful situation down the line. I.e., you may not be able to access your bond while taking a payment deferral.
As mentioned, each service provider will be different, so you will need to discuss your situation with them directly.
There are also several public relief options available.
Don't Max Your Credit Card
While it is tempting to treat yourself now and put things on your credit card, you could get into a lot of debt. No one knows just how long the virus is going to make furlough necessary, so you don't want to rack up costs.
Instead of a credit card, what I might recommend is looking into a low-cost personal loan. The terms are often more favorable (especially in the long-run) over a credit card, and you won't have the temptation (or ability) to max anything out since it's not a spending mechanism.
Minimize Dipping into Regular or Retirement Savings 
There may be some things that you have to use some savings to cover, and that is why you have them. However, try to pretend your retirement fund does not exist. In times like these, you can get through such funds quickly, and take years to recover.
Especially if you are getting closer to retirement age, you do not want to crack this open yet.
Look for State Resources or Relief Funds
If you have an unemployment insurance policy in place, now is the time to look into whether you can draw on it. Some insurance companies will not pay out as in fine print the Coronavirus is not on the policy schedule, but it is worth looking into.
Visit your government's labor department website for more details on this and other public resources they are making available for furloughed citizens.
The Consumer Financial Protection Bureau is a valuable resource for finding out what options are open to you during this tricky time. 
Look for Other Ways to Make Some Cash
It may feel like there are way fewer ways to make money now, but in truth, there are loads of online work from home opportunities. If you have a computer and internet connection, it is well worth capitalizing on this.
Check out freelancer websites such as:
Upwork
WeWorx
Peopleperhour.com
Freelancer
Guru
Contena
To mention but a few.
There are many others as well – get Googling.
Loads of essential businesses, like grocery stores, need to hire more people as well. If you do not live with people who are vulnerable to the Coronavirus, such as the elderly or anyone with underlying health problems, then working in this sector during the pandemic will also help to keep your head above water.
This option does come with a high health risk, though, so you need to decide if it is a sacrifice you can make.
Conclusion
As much as it is a scary time, panicking and making poor financial choices could have long-term repercussions. To avoid the potentially devastating long-term effects, and to navigate through these troubled times, you must learn to manage your money with competence and flare.
The furlough due to COVID-19 situation is not ideal, but if you keep your head, you can come out the other side with your finances intact.
Just breathe, and do not make any financial decisions when you are feeling particularly nervy.