In this post:
·        I analyse our savings and investments in 2018;
·        Share the structure of our investment portfolio; and
·        Explain the rationale for my investing decisions.
I already looked at, and reported on, our earnings, spending and cash flow during 2018. We provided a blueprint for following earning, spending and cash flow, and a link to the personal finance tool that we, at The Money Principle, developed specially to follow these – our Monthly Budget Planner.
Today, I'll have a look at our savings and investments for 2018 and tell you my reasons for what I've done with our investment portfolio.
Savings and investments: change over 2018
The graph below shows the annual change of value of our investments and savings. This compares the value of our investments and savings in January 2018 and December 2018.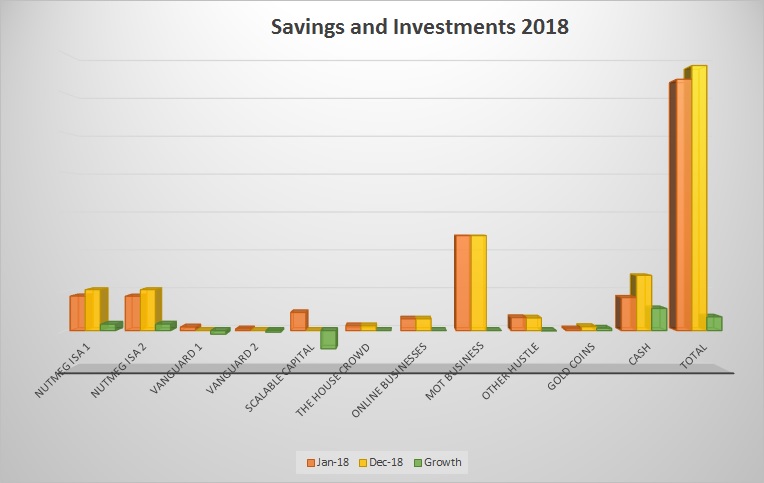 This shows that:
Our Nutmeg accounts have increased in value. This increase, however, is made up by new investments rather than investment growth.
Our Vanguard accounts have been closed. Vanguard did well but I had missed the important rule that one cannot contribute to the same type of ISA in the same financial year.
I closed my Scalable Capital account because I needed the money for a different investment. (Okay, I'll tell you about this one day, but I don't want to talk about it yet.)
The value of our investment in The House Crowd has stayed the same. This may be a mistake we need to remedy.
The value of our businesses (business interests) has not changed.
We have gold coins at more than twice the value of the ones at the beginning of the year.
Why I continued to invest in Nutmeg?
Simply put, I love Nutmeg and I stay faithful to my first love.
While love and affection are a serious business, some of you may argue that they have no place in investing decisions. And you'd be correct.
Let me give you the other reason for sticking with Nutmeg. Most digital wealth management platform (and some index funds) use ETFs (Exchange Traded Funds); even more importantly these use the same ETFs. I reckon, spreading my ISA across platforms makes little sense in terms of diversification.
In the long run, I suppose choosing Nutmeg is not a bad choice.
Why this interest in The House Crowd again?
You may remember that several years back, when The House Crowd was taking its first wobbly steps, John wrote a post on The Money Principle demonstrating how investing with some of their instruments is a good way to generate decent monthly income over several years.
We made a small investment and left it there. We know though that since 2013 out investment in The House Crowd had been bringing solid (and promised) 6% per year.
Now The House Crowd offer an ISA that promises 7% per year return (you have to lock your money in for some time).
The House Crowd offer plenty of opportunities to invest in property without the overhead of dealing with tenants, broken toilets and property management.
Watch this space; it is very likely that 2019 will see us investing more with The House Crowd.
What is with the gold coins?
Ah, thought you'd never ask.
Buying gold coins for me is not an investment and I care very little about what happens to the price of gold day to day (or even month to month).
Gold is security, not investment. I sleep better knowing that if the sh*t really hits the fan I could either grab the gold and run or will have close to a year to sort things out.
Sounds ridiculous, I know. But if my Dad listened to me in 1987 and bought gold and land with the money he had, he wouldn't have lost all of it.
Savings and investments portfolio structure 2018
What you see below is the structure of our savings and investment portfolio in December 2018.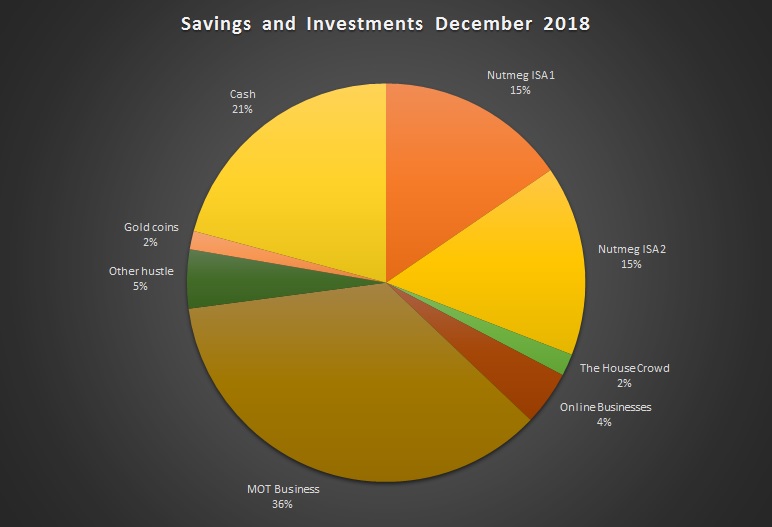 You can see that:
40% of our investments are in businesses;
30% of our investments are in Nutmeg ISAs;
21% we keep in cash.
Generally, we have been maintaining a high level of liquidity.
You know that my friend J. Money from Budgets are Sexy shares his net-worth monthly. Five years ago, I asked him why he keeps all this cash there, not doing anything. You know what he said? He told me that he likes cash, and he likes to have it ready for opportunities.
Couple of years later, I caught on.
Now I like cash and I specifically like to have it when an exceptional opportunity arises.
Savings and investment portfolio investment returns
In 2018 our portfolio returned 6% overall.
This is not very good, and it is certainly down from 2017. Still, last year was a real bastard for investing. For comparison, the S&P 500 index finished the year 6.2% down; our Nutmeg portfolios lost 12-13% over the year.
Bless the businesses!
Finally…
Overall, 2018 was not a great year for investors and investing.
Our annual money review of savings and investing shows that investing in the businesses was a smart move. I'm still disappointed; at the beginning of 2018 I had a vision of where we'd be at the end of the year and we didn't arrive. Can't do anything about it though.
My practical side is telling me to keep going – markets will likely recover.
How did your investments do?