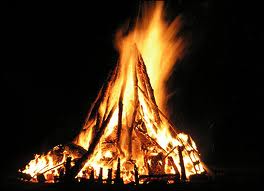 Yes, this is how we spent last night – around a bonfire, drinking wine and talking to friends. We have been going to out bonfire party for decades; it started as a little party for the children but then the dads felt the primitive pull of fire and fireworks. In brief, the children are now adults and we still go to this party that happens every year on the weekend closest to November 5th.
I have no doubt that my readers in the UK know well what this is about – although some of them have long forgotten that this celebrations have very powerful anti-catholic origin and under-tones. For my readers elsewhere around the world, Bonfire Night (also known as Guy Fawkes Night) is to commemorate the failure of the plot to blow up the House of Lords – and King James I – hatched by a group of English Catholics in 1605. This stayed in history as the Gunpowder Plot; more importantly Guy Fawkes who was guarding the gunpowder was captured, tortured and managed to break his neck before he was quartered. Not nice! But ever since, people in England celebrate the failure of the Catholics to assassinate their protestant king by lighting large bonfires and fireworks displays.
Now without further delay, let's see who in the blogosphere offered spectacular display of thought provoking publishing.
Being fifty is still a new thing for me, you know. So, suddenly my anxiety focus is zeroing on retirement, pensions and my winter; I do realise it is still very early but can't help it – this may pass when the novelty wears off. This is why, I enjoyed immensely a post by Krantcents who argued that, contrary to what people do, moving when you retire is dumb. I have no idea what I am going to do; one idea is to start a commune for my surviving friends – we can live in a large house, hire couple of people to help us look after ourselves and each other, and grow old completely disgracefully. For me, one of the worst dangers of older age is loneliness and isolation.
Money management is hard when you are on your own; when you are with someone else forever (or at least this is the assumption when we get married) it can get really iffy. Last week, I read an article by TheOtherGuy on The Free Financial Advisor setting out four money rules for wedded bliss. Not bad rules, these were. In my opinion, however, for bliss – wedded or bedded – there is only one rule: keep talking and never assume that you know what your 'other half' is feeling and thinking (or doing). This is it!
Until very recently I thought that we succumb to silliness because…well, because we are silly. About a week ago I heard that most silly mistakes we make when thinking in numbers is not our fault – it is an evolutionary feature of our brains; so I am learning to be much more accepting of human folly. Irrespective of how accepting I may be trying to become I am still not prepared to ignore blog articles pointing to, and busting, obviously faulty thinking.
One of these was published by A. Blinking and draws attention to the fact that most our finance is gross; no, not in the sense that it is 'disgusting' but as in the other side of 'net'. We tend to forget this when we make important financial decisions like buying a car or a house and then wonder why our living standard is so much different from before and there is no money left for 'God knows what'. Think about 'net' not 'gross'!
Another reminder was published by the Financial Samurai who raised the matter of behaviour change that comes with credit card rewards. Yes, this is right! Many people end up spending hundreds they don't have (or have to spend) because they will get several pounds (dollars) back. Sorry, guy, this is the limit of my acceptance – this is not evolutionary problem, this is seriously dumb.
You know how we all love good news? Well, I like good news as well and given my latest adventures some good news is really due. Barbara Friedberg did exactly this for me by publishing a how to get rich quiz – it turns out 'it is on its way', as a friend of mine says. Go do the quiz; even if you are not doing the right things you can learn how to change your ways.
Kevin at OutOfYourRut reminds us that our habits are the foundation of our destiny; financial or otherwise. I loved how he turns the matter around – instead of telling his readers to get out of bad habits (like spending and building debt), Kevin focuses on developing a good habit – saving.
Finally, I want to tell you about my find; and it is a find from a proper treasure hunt. Came across a blog called 7million7years; it is written by Adrian who seven years ago started with $30K debt and has made seven million dollars since then. How did he do it? By not focusing on his debt but on making money and using a two step wealth generation system. Very simple really: a) Step 1: Start investing; and b) Step 2: Deal with emergencies as they arise. Mmmm…liked it so much that immediately went and bought his new book. May tell you more about it one day :).
Finally, The Money Principle had a good October. Let's just say that its readership is growing and expanding, it made enough money to cover its costs (thought not my time, but then this is expensive) and that we were featured in the following personal finance carnivals:
Our article Why comparing your budget to this of other people is a really dumb thing to do was included in
Carn. of Financial Camaraderie at My University Money
Yakezie Carnival at Portfolio Princess
Y and T's Weekend Ramblings at Young and Thrifty
Carnival of MoneyPros at Thirty Six Months
…and Billing guidance tips can help your business cut on energy costs was included by
Carn. of Financial Camaraderie at Credit Resource Center
Yakezie Carnival at The Ultimate Juggle
Y and T's Weekend Ramblings at Young and Thrifty
Carnival of Retirement at Master the Art of Saving
Carnival of MoneyPros at Debt Black Hole
Thanks for to all who mentioned us and may the blogging force be with you (yeah, lame, I know).