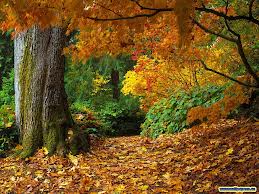 Autumn has very special significance for me now – if you remember the seasons of life I was telling you about, I just recently entered the autumn of my life. This is the deep part of it; the part where I am looking at my life, back and forward, making sure we have a great future and no regrets in three decades later. The more mundane part consists of dealing with autumn as a season: the seasons of plenty. Plenty of fresh fruit and vegetables, plenty of novel life events (our son starting high school, new academic year, grown up sons leaving home) and, worst of all – plenty of Autumn leaves in our garden.
You see, it is not that we have a large garden – and thank goodness for that. We can't cope with two patches – front and back – the size of large handkerchiefs. My grandmother had a garden: it was so large that my grandparents could grow all the food they needed for the year, some food for the animals they kept and then some. Did my grandmother clear leaves? Certainly not! Every year the land was turned so that the leaves could rot and enrich the earth.
We have grass (some), several plants (ashamed to say that every time John's sister visits she takes pity on us, drives to the garden centre and plants something that we have no idea how to maintain) and trees. This combination means that every autumn there are a lot of leaves to clean. So guess what I did today? Yep, cleaned leaves! And as much as I dislike doing, I still admit that it brings the immediate satisfaction of ordinary, everyday activities.
Now, let me move on to some of the blog articles I would consider worth noting.
And the blogging event of the fortnight is that I finally learned (and many others, of course) who one of my closest blogging buddies is: AverageJoe unveiled his identity. As it turns out he is far from 'average' but then most of the interesting bloggers are. Joe, my friend, it is nice know your real name but if you want to really impress me you will have to do better than that. Thinking about it, you don't – I was already impressed.
Lance at Money Life and More published a post discussing the most popular budget; and before you all get excited and brimming with expectations for easy solution let me tell warn you: Lance also tells us that it sucks. Nothing too stimulating till now, yes? Little do you know. This post made me think about expected vs. unexpected emergencies and about could you really know whether your present is brighter or less bright than your future? How do you know this if the future doesn't exist? Deep, uh?
I have come to expect a lot from Miranda Marquit and this is why. Al the more interesting that she managed to surprise me – pleasantly, of course – with her post as a staff writer on The Prairie Eco Thrifter. Have you heard about the 'spending plan mentality'? If you haven't go and read the post – you won't regret it. While reading you may remember that couple of months back I did discuss whether we are teaching our children the wrong thing by teaching them to save rather than spend.
I like learning things; more is the pity that lately my feeling is that learning about personal finance – particularly the frugal aspect of it – has somewhat levelled off. But I learned something very valuable from Paul at the Frugal Toad. He published an article about cutting our cost bill. Initially thinking that I'll get the usual 'don't buy brands', 'shop in budget stores' and 'substitute meat' kind of stuff, I was pleasantly surprised to find that some fruit and veg is well worth buying organic when with others it doesn't matter. You want to know which ones? Get moving around the net and go read the post!
Being in my autumn, I am becoming much more concerned with 'storing my labour' for the hard days of my dotage and have long believed that the most certain way to do that is to buy precious metals – gold and silver. This has nothing to do with my love of fancy jewellery mind but may have a lot to do with my 'genetic memory'. My great- great-grandmother used to carry the family wealth around her neck: and quite a substantial wealth it was – all in gold and silver coins of different size. Loads of them – leaving in troubled times teaches you that your wealth should be easy to take with you when you need to run. She forgot her youngest child but not the means to feed the rest of her family (don't worry, neighbours found the child and took her to her parents; this was my great- grandmother). Guess what? I was very pleased that Penzo agrees!
An article that I absolutely loved during this time comes from Leo Babauta again. It is splendid after hearing all the time how to get health insurance, worrying about getting health insurance and hunting for the best health insurance, to hear how we can make it a bad bet. Although I can understand how many people won't get it!
With Seth Godin I always have a problem of choice: it would be much easier to say 'people, go to his blog every day and make sure you understand'. Since I can't do it, I have chosen one post: about how accepting small promises is demeaning all around. Now you can go to Seth's blog and read but you won't find much more about this – so you have to accept it, reflect and never be demeaned or demean again.
Oh, I usually don't give juicy details in this kind of post but this time can't resist: did you hear about the Bank of Scotland ATM that gave more cash than asked for? For crying out loud! And in Scotland at that!
During the last fortnight the following carnivals included posts from The Money Principle:
Our article on Changing my position on credit cards: a sign of weakness or growth
was included in:
Carn. of Financial Camaraderie at My University Money
Yakezie Carnival at Parenting and Money
Carnival of MoneyPros at Finance Product Reviews
Y and T's Weekend Ramblings at Young and Thrifty
and our post How to Trade Forex was included in:
Carnival of MoneyPros at My Multiple Incomes
Carn. of Financial Camaraderie at See Debt Run
Y and T's Weekend Ramblings at Young and Thrifty
Carnival of Retirement at Family Money Values
Thanks for this and to all our friends who mentioned us in their round ups. Till next time!