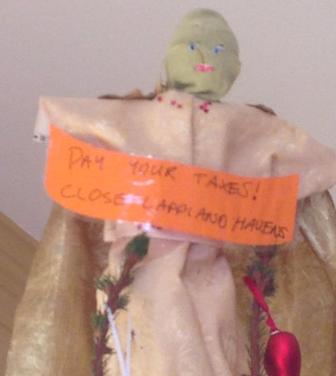 Sometimes we have the kind of years that we just can't wait to see the back of – these are the years when things don't go as they were supposed to and it doesn't matter how much effort you put in thing they fail to come to fruition. Some of it is luck, I admit. But lately, my Eastern fatalism is giving way to a much more proactive stand – it seems that the smarter I work the luckier I get. This is how, without wishing to tempt fate (in Bulgaria we say 'challenge the Devil' which I probably prefer), we have had, personally and professionally, a string of great, fruitful years; 2012 is no exception!
I'll be telling you about this one more tomorrow but 2012 for me was a year of influence and reach – mainly through my writing. You know how I used to say that the hardest, and most rewarding, thing I've ever done is not my PhD but passing my driving test? This is not the case any longer. These two probably top the list (for now) overtaking my driving test; in 2012 I published:
1. An article in Science – which is the top science journal in the world second only to Nature – entitled From "Science in Europe" to "European Science". This is rather epic given that I am a sociologist of science and teach philosophy; which is one more illustration that education is what you make of it. This was great not only because of the outcome – the process was a wonderful experience, a real writing boot-camp. I owe a debt of gratitude to my editor Brad Wible and to my co-author Michael Stampfer.
2. An article on Budgets are Sexy – yep, I am that pleased – entitled Things We Miss, Things We Gain: From Retirement to Life-design. If you haven't read it yet, it may be worth it – this is one of my better written pieces and it is also not about 'what it says on the tin'. Ok, fine, it is about retirement and the way we need to alter our thinking if we are to have one, but it is also about a mind-set – one that builds on 'age being simply a number' and the 'beauty of turning things on their head'. I am very happy that J$ published it – it is not only that it was better suited for his blog than mine (well, you'll have to read it to see why :)) but also because during my brief interaction with him I learned so much.
Talking about writing, and blogging, 2012 was generous to me as a reader as well. There were some wonderful examples of great writing on personal finance and beyond. Since repetition is the 'mother of learning' but not of knowledge I am not going to waste time doing a re-cap of the best on personal finance in 2012. My blogging buddy, The First Million is the Hardest, already did it. He published a recap of the 99 best personal finance posts in 2012 – have a look for some really good and diverse writing. You will find there all kinds of folk – you will find 'the story tellers' (me included), you will find 'the information gatherers' and 'the technicians'. Enjoy!
Apart from that there were some interesting articles during the last two weeks and here is a selection of these (I would like to apologise to the ones I am not able to recognise for want of time and space, not merit).
The highlight of my blog reading for the last two weeks will have to be the two part interview with Seth Godin on Write to Done. Discussing his upcoming book (The Icarus Deception) with Mary Jaksch he reminded me about something and I did entertain myself thinking about it for a long time. You know the myth of Icarus? Well, I have known it for most of my life – I grew up on Greek mythology, I read Greek mythology in my Chemistry class. This is the one about the dude – Icarus – who flew too close to the sun and his wings melted. Message: don't aim too high. We all know this one! What we omit (and I managed to forget as well) is that Daedalus, his father, when telling him how to fly off the island advised Icarus not to fly too high or too low – in one case his wings will melt, in the other get soaked; in both cases he will die. Message: aiming too low kills you as well, so you may as well go for it! Thanks, Seth; this is a great message to take into the New Year!
Houses are amazing black holes for money; by the time you have sorted one thing out something else needs doing. Jen from the Master of the Art of Saving was debating whether to do their bathroom up. Jen, do! Saving is all too well but life is for living and has to be lived somewhere; preferably somewhere nice. In my experience, two things make a house nice – bathrooms and kitchens.
Edward from Edward Androbus had his three year blogoversary – good going and keep going. Sometimes we miss our goals but we are still further Down the road!
Right! If I am to make this road trip across the US on a motorbike, I'll need some gear, won't I? Jason from Work Save Live has the perfect credit card for me –  the Harley Davidson card. Great rewards and these can be used as a down payment of a Harley; and the card look cool…ok, cool in a very Easy Rider kind of way.
I have done all kinds of things with my lunch – I have forgotten it in my car; I have been known to sit on it (in front of a student of mine and couple of colleagues) and eating squashed sandwiches is no fun; and have forgotten it altogether. But my food has never managed to run away, have a fight with a rooster and get tangled in its tie and some bush. Unlikely as all this sounds it is exactly what happened to Pauline's Christmas turkey –  an epic run for freedom and independence that still ended badly; for the turkey this is.
Jenna from Broke-Ass Mommy made some resolutions for 2013. Wow! I got tired only reading the list but good luck with all this – looks highly sensible although rather a lot. And why chess?
Linkedin is something I use; a lot and a lot more lately. But, as with many things, I suspect I am a fairly un-sophisticated user. Reading Digital Personal Finance's article on the ways to use Linkedin to further your career only confirmed this; so I am off to implement some of the sensible suggestions.
At Christmas, naturally the blogosphere is populated by recaps, resolutions and priority setting. There is nothing wrong with it! But even when we have our favourite meal we need some variety – I love roast pork and sour kraut but after several days of it I really start craving tuna and salmon cebiche (well, one has to maintain some level of modicum and style). This is what the post published by 101 Centavos comparing life in 1958 and today gave me. Comes to show that any Golden Age is a time we haven't lived through!
The Monevator has been making waves again by giving us 10 reasons why houses are a better investment than shares. I loved the article and I loved The Investor's attempt to ward off controversy stemming from misunderstanding – a 'note to avoid more confusion'. Clever albeit not very effective judging by the comments. Very thought provoking article, I say. Thanks for publishing it – articles like this restore my faith in investment blogs and their ability to go beyond the expediently technical.
I did say that there has been so much exciting stuff I can go on. But this is getting too long, it is too close to New Year's Eve (and I have to be off to make baklava; again :)) and generally time to draw to a close.
During the last two weeks The Money Principle was included in the following personal finance carnivals:
Carnival of Financial Camaraderie at My University Money
Carnival of MoneyPros at Making Sense of Cents
Carnival of Retirement at Investing Money
and
Carnival of Financial Camaraderie at The Savvy Scot
Y and T's Weekend Ramblings at Young and Thrifty
Carnival of MoneyPros at Debt Black Hole
Thank you and a big 'thanks' to all who mentioned my articles in their round-ups – you are wonderful and I hope to be able to count you amongst my 'blogging friends' for many more years!