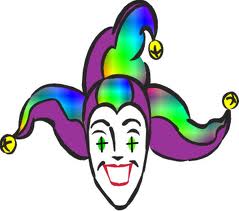 Today is April Fools' Day and we can officially be a bit more frivolous, jokey and, let's face it, foolish. Belonging to two different European cultures, I have a particular advantage today: I can tell as many bad jokes and my heart desires with my British hat on, and can lie to and prank people with abandon with my Bulgarian hat on.
But I'll save you that and instead will introduce some thought provoking posts from around the blogosphere; I have not done this for some time now but this doesn't mean that nothing has caught my attention or that I have forgotten to share with you, my readers. It is more like, I was saving the experience for a time when we can both enjoy it.
There isn't much that is foolish in my choices today, I hasten to add; if anything, these posts will make you examine your ways and get rid of some foolishness without killing the joy and humour of your lives.
My absolute favourite post has to be a short piece by Seth Godin on the way we make big decisions about money. It is so simple! We really suck at making big decisions about money because we compare fruit with elephants; well, the way Seth puts is it is that we compare dreams with numbers. There isn't sufficient common basis to form an opinion. To be able to make an informed decision and be certain that 'this is what we want' we have to compare dreams! Simple and elegant! Then again, 'simple and elegant' is Seth's trade mark.
Suba at Wealth Informatics is pondering a very interesting matter again; are you really chasing your dream or someone else's. It is true that most people don't have the imagination to come up with their own dream most of the time. Even worse, they don't even realise that it is not their dream. Now that Suba poked you into thinking get going and shape your dream!
Barbara Friedberg makes a good point about having an emergency fund. Remember, David Siegel , had no saving to cushion his downfall when trouble hit. Which brings us to the point, Barb puts forward very clearly: it doesn't matter how rich you are, you still need an 'emergency fund'. I think we can start referring to 'the universal law of the emergency fund'; which makes sense since this fund is for emergencies and these are pretty universal. If whether or not to have it was linked to how much money you have it will be called 'poor person's fund'.
American Debt Project asked how old it young in her post on the news story about Phil Collins' nephew, his buddy from university, a yacht and a very large quantity of uncut South American cocaine. Apparently, 'the lads' passed themselves off as gap year students; except that they are 37 and 39 years old. Now, I can understand that this sounds a lot to someone who is 25 and too young to someone who is 80. This aside, you do realise that researchers officially count as 'young' till they are 35 (in some cases 40). Go figure!
Shaun and Smart Family Finance published a series on house ownership vs. house/apartment renting. These are well worth a look because this is becoming a question that many people consider. I have been thinking about whether house ownership is over-rated but then always come to stand still where choice is impossible. Guess, will have to go back to the drawing board on this 'life design' stuff.
Dr Dean at The Millionaire Nurse asked whether buying a new, fuel efficient car ever makes financial sense. And despite what you may think and all the people who justify changing their car by it being more fuel efficient the answer is 'no' – some simple arithmetic will easily convince you if you know how to do it. If you don't, read this post and you will learn. Even more importantly, the post raises the interesting question of alternative transportation that really saves fuel and, of course, saves you money. Get a push bike; if this is inappropriate – get a scooter.
Continuing the car theme, Kay Lynn at the Bucksome Boomer asks whether they need a new car. Apparently her colleagues, who are also friends, ventured an opinion that her husband needs to change his 1998 Ford Windstar with a newer model. Now, I may be wrong but I don't believe that what friends think about out possessions should determine what we do with them. In fact, what people think about our stuff may be an opportunity to examine relationships and evaluate friendships.
Derek at Life and My Finances is making a decision: buy a car and skip an extra mortgage payment or keep his petrol guzzler and pay $750 (about £500) for petrol. It seems that he has already decided; in fact he may be driving this cute Mini as we speak. But for what it is worth, I would have gone with the car as well – this is a long term saving on petrol and the environment.
Last but not least, Miss T at the Prairie Eco Thrifter put forward seven reasons why failure is a good thing. I agree with her – failure is the thing that makes us learn, develop and grow. Apart from that, failure means that we are exploring and leaving the comfort of the painfully familiar and the boring.
This is it for today. But I would like to mention that I was very touched by your good wishes, kind words and messages of congratulations for The Money Principle's first birthday.
During the last week, The Money Principle was mentioned by: