Here is a tasty and affordable pancake recipe. I call them 'skinny pancakes' because they are made with water, not milk.
Pancakes with honey and feta cheese! I know this sounds like a strange combination but next time you are eating pancakes don't keep only to sugar and lemon.
You can do so much with pancakes.
You can have them with:
Jam;
Jam and cheese;
Cheese;
Chocolate spread; and
Ice-cream;
You can use them to build a cake or you can use them to make a savoury dish using layered fried or roasted vegetables.
As you can see, I'm a great lover of pancakes when I'm not suffering from a stomach complaint (here, please, imagine my really sad face).
I've made pancakes for decades now; in fact, pancakes and French toast are probably the first two things I ever cooked.
I've always made pancakes as a scientists. If you cook as a scientist, you probably have heard about Delia Smith (for my readers in the US, please, find her on the Internet).
Here is Delia's recipe for pancakes. You need:
110g plain flour
A pinch of salt
2 large eggs
200ml of milk mixed with 75ml water
2 tablespoons melted butter
Please remember that if Delia is very precise so make sure you measure everything.
Then:
Sieve the flour in a bowl. Make a whole in the middle and break the eggs in it. Start whisking the eggs bringing in the flour. Start adding the liquid (milk and water). Whisk until you end up with a smooth mixture.
Use a small, non-stick pan to fry the pancakes. You need almost no oil (butter) on it and I have calculated that 70% full ladle of mixture spread around the hot pan makes the perfect thickness pancakes.
So there.
There is nothing skinny about Delia's pancakes: they are full of hip rounding carbs and fats goodness to which, of course, I like adding some sugary delights on top as well.
The other week, my sister dethroned Delia in our pancake making.
She was feeling restless and offered to make us pancakes.
'No' – I said – 'we can't make pancakes. There won't be any milk left for tomorrow morning.'
'Why do I need milk to make pancakes?' – she said.
This is my sister's recipe for skinny pancakes.
You need:
2 eggs
180g plain flour; and
Approximately 450 ml water
Break the eggs in a bowl and start whisking them. Gradually add the flour and the water. Please be careful with the water – add it in very gradually and make sure that all the flour is in before you add more water.
When the mixture is ready, fry as before.
Note: please use an electric whisk if you don't want to have a very painful arm for the rest of the week.
Let me tell you, I was sceptical. I thought that my sister's skinny pancakes will be less tasty than Delia's.
How wrong can one be?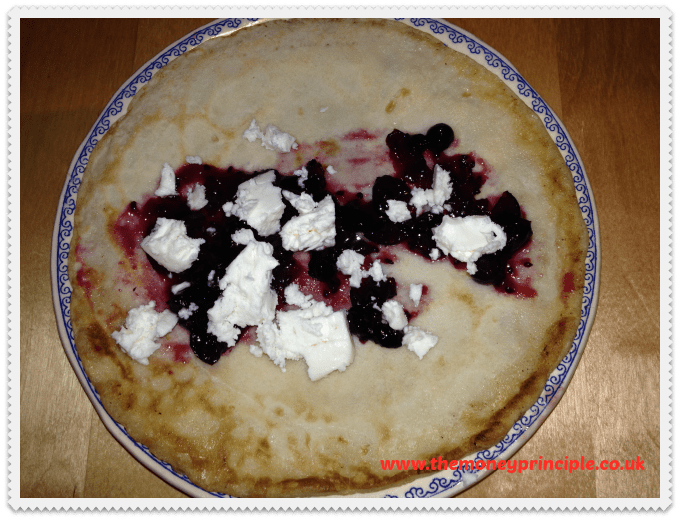 Skinny pancakes are delicious. And because they are less like a fancy omelette they bring out the flavour of the filling much better.
And they have considerably less calories (no milk or butter). And they are cheaper.
Told you before, when it comes to frugal artistry it is hard to beat an Eastern European woman who raised her family during communism.
Thinking about it, my sister did mention that this is how our grandmother made pancakes. Oh, well…still, Eastern European women.
I'm going to make skinny pancakes the moment I feel a bit better.
Would you be brave enough to try them?