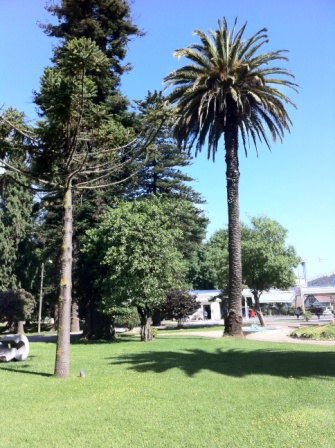 Couple of days ago I was casually browsing the internet; one of these sessions when you have no purpose and keep your expectations low – this way you won't be disappointed when most of what you come across ranges from the trivial to the absurd. Yes, obviously, being a blogger, I am  great internet enthusiast; but finding the sensible stuff requires a sensible level of effort.
Anyhow, there I was lazily flicking through web pages and…I was sitting in my chair, my back ramrod-straight and my interest piqued. What I was reading was an article where the author argued that one mistake we all make is to pay too much attention to today's results when it is so much more important to look carefully at today's actions: after all our conditions today are the result of our actions in the past. This made so much sense – it was at the core of the technique I have used for the last two years to 'plan' my life and I never expressed it so clearly.
What really struck me, though, was what logically followed from this statement: we shouldn't simply content with 'learning from past mistake' but we can learn from present situations – we simply have to trace these back to our past actions.
This is why I decided to take a look back at the past year and the way in which The Money Principle has developed. Twelve months ago we made a pledge to our readers that we'll continue to 'provoke you, build an information base for you and entertain you'. Now, 244 articles and 156,000 words later, it is time to look back the past year.
Looking at the stats, The Money Principle had a great year of growth and achievement. Our visits, visitors and page-views have increased four-fold (and our starting base was not pitiful :)). More importantly, John and I have been working hard and having great fun keeping The Money Principle the high quality site that 'makes your head hurt and your wallet sing'. We discussed interesting and useful matters about life and the money that sustains it, and stayed true to our believe that money only matters when it sustains life as we want it.
During 2012, The Money Principle was very successful in two bloggers' competitions. First, my article Money for All Seasons won the Tour de Personal Finance at My Personal Finance Journey – I am still wearing the Yellow Jersey!
Cool as winning a 'proper blogging contest' was, The Money Principle was also the rather surprising finalist in the PF Olympics on GoBankingRates. With the support of many kind readers, my article SOS Debt Management: is debt consolidation worth it? ended up in the top sixteen out of…well, out of many. If you would like to read my Finalist article click here.
The Five Most Read Posts on The Money Principle during 2012
During 2012, these were the readers' favourites:
What would you do if you really have no money at all? – In this post I discussed the difficult choices that one ought to make if they really have no money at all and set out what I would do; which is pretty much anything legal and relatively moral.
One habit of wealthy people – The habits of wealthy people are often discussed on personal finance blogs, not least because this kind of title is a big attention catcher. I didn't wish to discuss character features that have been discussed before; for me the one simple difference between wealthy people and not-wealthy people is that the former don't spend because they don't want to, where the latter don't spend because they can't. This is deceptively simple and it demands achieving complete mastery over our wants.
Five things older people have and younger people…– We have grown to fear older age neglecting to recognise that it has some clear advantages. The five things that older people have and younger people want discussed here are: knowledge, wisdom, wealth, happiness and cheaper car insurance :).
Money for all seasons I – much of personal finance assumes that the rules of the money game are 'omnipotent' or that these are the same for different stages of our life. In this article, I set out four stages of life – spring, summer, autumn and winter – and set out different money and money management rules for these.
New UK banking regulation – in this article John discussed the implications of the Vickers Report in the UK.
Top Editor's Picks in 2012
I naturally like the articles that you, my readers, enjoyed – otherwise I wouldn't have offered them to you. Apart from this, however, I have my personal favourites:
The ten steps between a vague idea and definite success – Much of popular business literature mentions the 'ten steps' but these are rarely set out. In this post I set out the ten steps starting with an idea and moving through dreaming, planning, strategy, marketing and feedback. These steps are not sequential and statistically only two out of ten ideas would succeed – these are the two you are interested in!
About the importance of spotting opportunities and acting on them – This is a favourite of mine and whenever I run out of steam I get back to it. To see why you probably should read it.
Money for all seasons II – This is the second article in the series (and last) and in it I set out the financial expectations for each of the seasons of life and examples of personal financial profiles using these expectations. This is where you can find the 'profile of despair' and unfortunately many would identify with it.
Three quotes that will help you improve your writing – I spend twelve months (between July 2011 and August 2012) writing; with the persistence of a drug edict. I wrote academic articles (I published an article in Science, remember), I wrote for The Money Principle and I experimented with other stuff (don't ask). When reflecting on what helped me do this better I realised it boils down to three quotes. Curious? Check it out!
Children and money: are we teaching our future the wrong things – I love this article because it is one of the ones that turns personal finance upside down. Most PF bloggers will discuss the importance of teaching our children how to save; I argue that it is more important to teach them how to spend. Just like this is the art we ought to master were we to become financially healthy. People with eating disorders have to learn how to eat!
Are you saving too much; our 'enough' – in this article we used a decision making framework we set out in an earlier post to work out how much is our 'enough'; in other words we worked out how much money John and I need so that I wouldn't have to work if I don't want to and we can lead the life 'we want to' rather than 'we are forced to'. There is a follow on post that contains a calculator to allow readers to calculate their 'enough' changing the assumptions.
This is it for 2012! We hope we did manage to keep to our pledge and look forward to a very fruitful 2013.