Most people when faced with the need to budget, be it because they have built 'negative wealth' or because they have decided to start saving for something, fear that this will affect their quality of life for the worse. I have made it my mission to reduce expenditure without loss of quality – in fact given a choice I go for quality every time except in cases when it really doesn't matter.
Although food doesn't rank very highly in my 'hierarchy of needs' it is kind of important. Without being a connoisseur I like good food and so does my family. I was telling a friend that within couple of months we almost halved our food bill and I can see disbelief on her face. So I issued a challenge: I will serve a three course dinner that costs no more than £1.50 per person. And I did – as one of the guests put it '£1.50 has never tasted that good.'
This is the menu: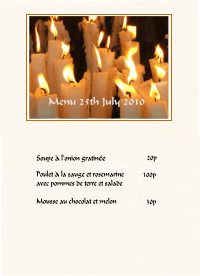 How was it done? By buying wisely and cooking from scratch.