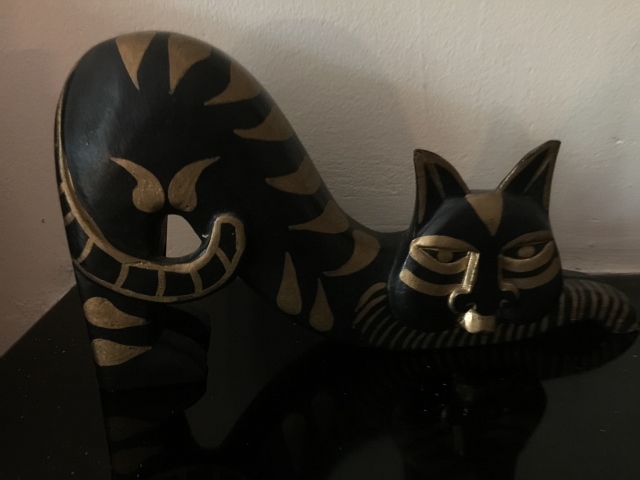 We are back.
It is nice to be home. Home means a washing machine, clean clothes and my own bed.
Being back means that The Money Principle will get back to its strict schedule. We publish on Tuesdays (regular as clockwork), Fridays (if we have something interesting to say about eating for less or what's happening in our lives) and Sundays (regular post about the top money tips articles I've selected for you).
It also means work, cleaning, organising and a fresh look at things.
So…
Taking a fresh look at my study I noticed at least six items that have been annoying me for years. They didn't meet the test for keeping things: that they should be either functional or beautiful.
Look at the cat in the picture! It has been in my study ever since we moved in the house over twenty years ago. I found it ugly then and find it ugly now; I have just trained myself not to look at it. Ugliness no more and the cats (they were actually two) have been sent to the place where ugly ornaments go when discarded.
Feels good. I have every intention of continuing that way – there is enough clutter in our house to make me feel good for getting rid of it for the next decade or so (okay; I'm exaggerating but only slightly).
So you see, falling back to reality doesn't have to be negative and many good things can come out of it. Just watch this space and I'll be telling you whether and how I've lightened my life.
It doesn't need to be over also because you can always make a play for another holiday. And the one I have been having my eye on, doesn't even need to cost you anything.
What is she on about? – you may think.
I'll tell you what. The guys at LaisureJobs are running a competition to win a weekend trip to Paris. It is for two (which can make it terribly romantic for people who like Paris) and includes flights, hotel and a meal in Michelin star restaurant. If I were you, I'd go there and enter – it will take you approximately two minutes to do so.
Now, let me tell you about the top money tips posts that caught my eye during the last couple of weeks.
This week I'll start with the absolute best and move on from there.
The 12 Essential Lessons I Want to Share About Money & Life on Afford Anything. Paula Pant has always been good. This blog post is excellent. There is much to be gained by reading it!
Egyptian Billionaire Offers to Buy Island to Help Refugees [MSN]: and being able to consider something like this is what makes being (becoming) obscenely wealthy worth it.
What I Learned Working Like Benjamin Franklin For a Week [Budgets are Sexy]: this is good. If you fancy an experiment in productivity, follow the masters!
Baby Steps for Future Millionaires [The Escape Artist]: Yep. One has to start somewhere and the ten steps presented here are as good a place as any.
Have You Considered the True Costs of Minimalism? [MoneyNing]: I know that many are concerned about the first point. Want to know what it is? Read the article.
Hope you'll enjoy reading these top money tips articles lovingly selected by The Money Principle.
This is all for now. Wish you a very successful week ahead and speak soon.