We are just back from a very relaxing two weeks in the sunny Algarve, Portugal.
I don't know about you, friends, but I have missed spending time in the sun. And I mean the Southern sun that makes your skin prickle with heated awareness, not the Northern sun caressing you with ghostly light that we get in Manchester.
Also, I am still Bulgarian enough to believe that our health and happiness depend on the three Ss – sun, sand, and sea.
The COVID pandemic put a bit of a spanner in the wheel of lazy breaks in the summer sun. For over two years now, we have had breaks in the UK, some of them very nice. Lake District in spring, for instance, is something to behold.
It is not the sun, sand, and sea, though.
Early in the year, when overseas travel was still in the shadow of a huge question mark, John booked two weeks holiday in the Algarve, Portugal. He booked it all – an apartment in Carvoeiro using our Club La Costa (CLC) membership and flights.
Was it risky to book? You bet it was. Since spring this year, the rules and requirements for travel have been changing faster than you could blink. Still, the losses would have been acceptable (our CLC points maybe), and the gains were so very treasured.
What was the accommodation like?
We had a one-bedroom apartment in a small resort called Carvoeiro Clube, a ten-minute walk from the village of the same name in the Algarve, Portugal.
Our apartment was spacious and very well equipped. It had everything in the kitchen (apart from a food processor and other gadgets), including a dishwasher and a potato peeler. Don't laugh; I used the potato peeler, not to peel potatoes, but you need it for cucumbers, right?
Having a well-equipped kitchen means that we had the choice of whether and when to eat in restaurants. Most of the time, we ate salads, tomatoes, fruit, and cheese. Don't judge – this was not a hardship and meant that in two weeks we spent – on everything – approximately £650, which is not bad.
We also had a spacious living room and comfortable bedroom.
(John was told that renting this apartment for a week would cost over £4,000. I'm sceptical, but given the space and the standard to which it was furnished, this probably is not far off. We didn't pay £8,000 for accommodation, but I'll tell you about this later.)
What was the resort like?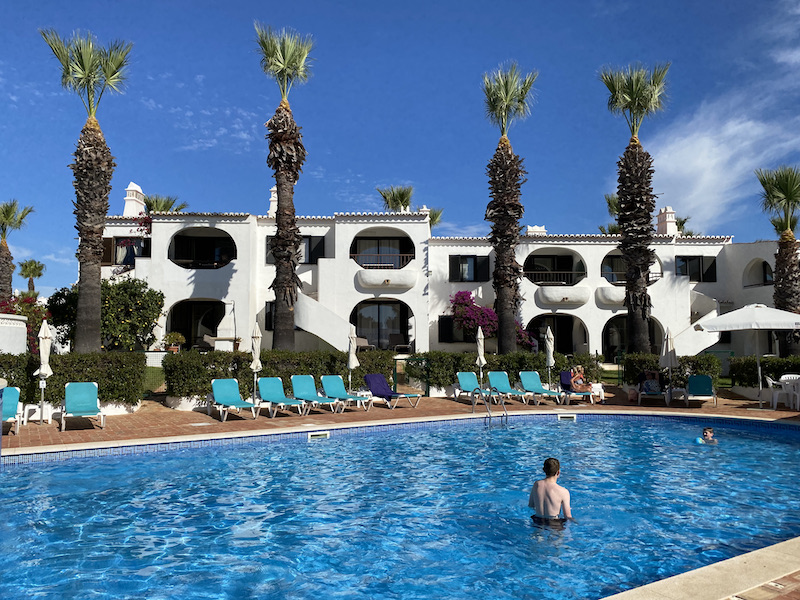 Carvoeiro Clube is small and has character. We enjoy both.
It has a decent size swimming pool which is probably great for swimming in high summer. It was rather cold in the second half of October – I swam in it for twenty minutes and after that shook for twenty minutes. I didn't try again and stuck with drinking cocktails as my sport of choice.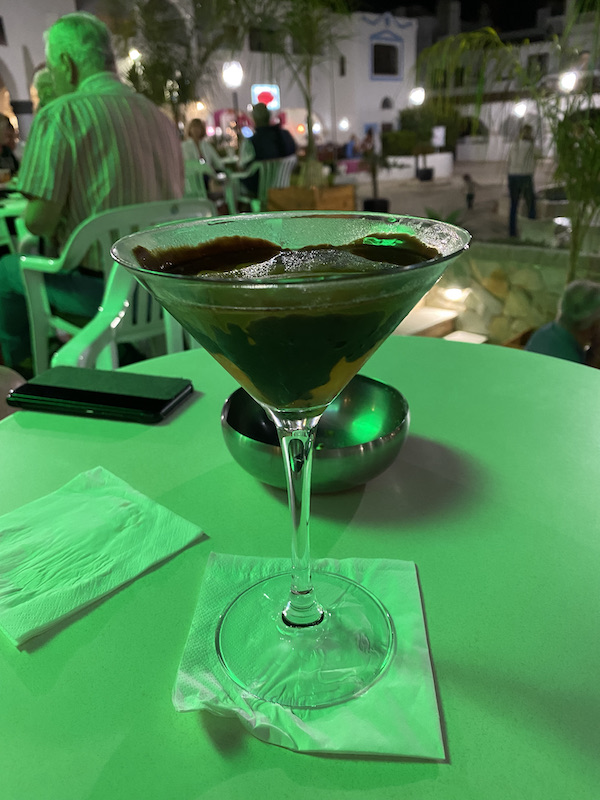 The Algarve is exceptionally scenic, displaying raw beauty smoothed by the sheltered sandy beaches and the rhythmic sound of the ocean.
It is perfect for walks on the cliffs and boat trips. (Okay, to go on boat trips as a couple, John needs a new wife, I'm afraid. My sea legs are wobbly.)
We went to several beaches nearby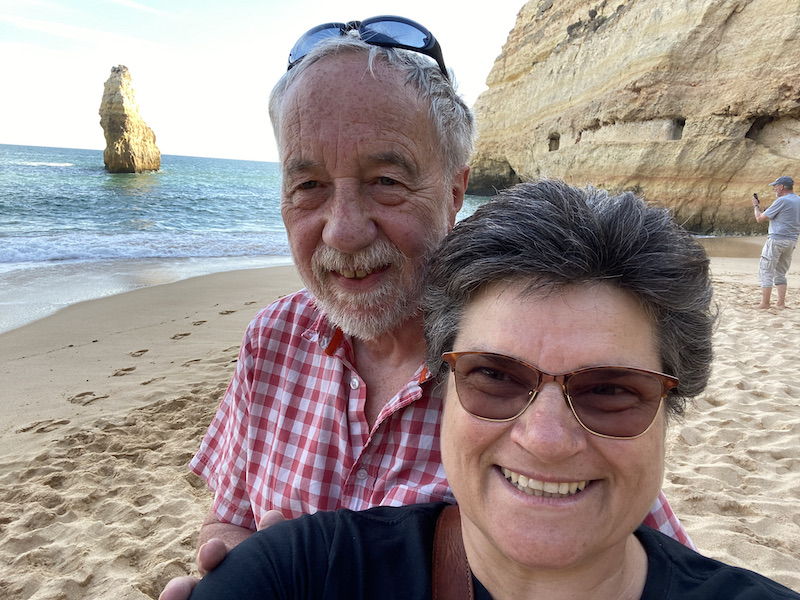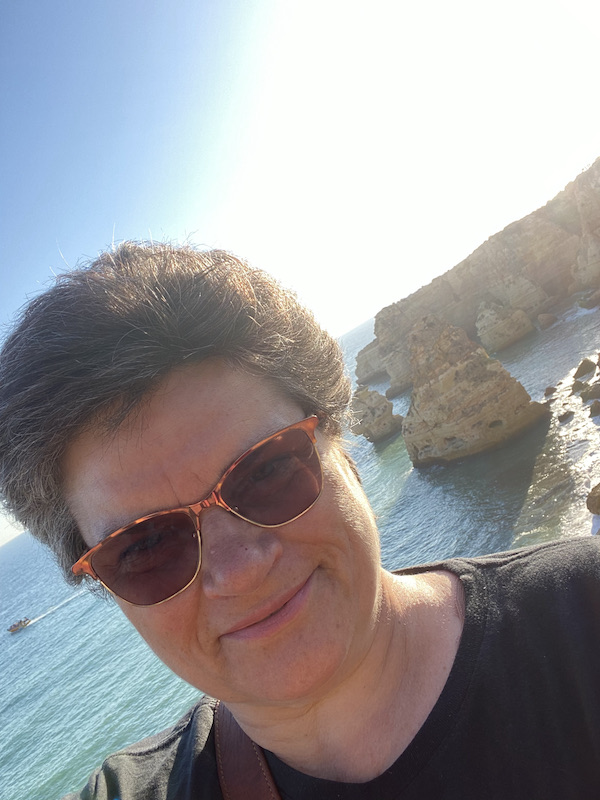 What was the weather like?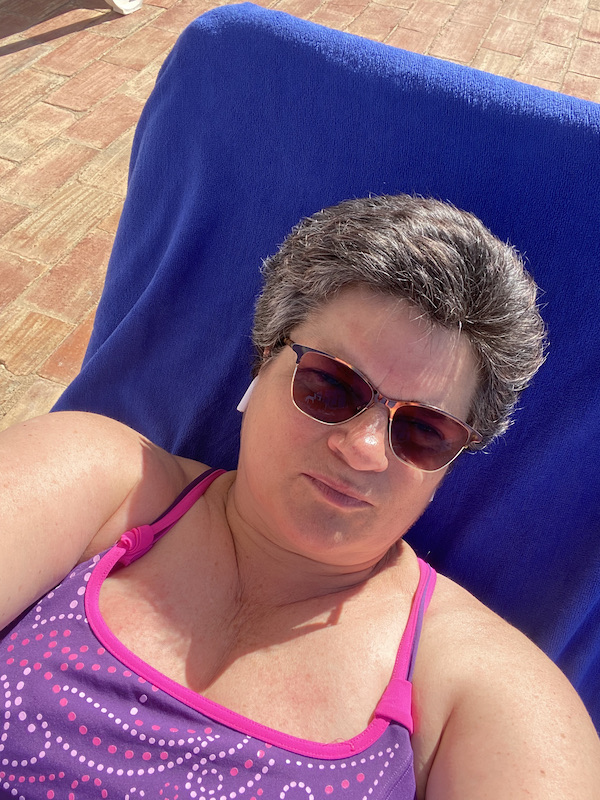 Perfect.
We had thirteen and a half days of mellow sunshine. It was warm but not hot at 24-26C.
And because we sunbathed every day, we have a fashionable suntan (okay, it may be an exaggeration to call it 'tan', but it is not about the weather, it is about how we are.)
I found the evenings mild as well, though John wore his jumper. You would think that he was born and raised in the South.
What was the food like?
Look, I've been to Portugal many times (twice on holiday). Apart from port, I don't think I've ever tried something uniquely Portuguese, although Google is telling me that there is such thing as Portuguese cuisine.
It doesn't mean, however, that we didn't treat ourselves to delicious food in restaurants.
Our favourite was a fusion cuisine place at our resort called The Square – the combination of flavours was like a caress for my taste buds.
We also had seafood. I am especially partial to prawns and squid and indulged with gusto.
Now, looking at an article about Portuguese cuisine, I realised what my favourite food was. It is called Pasteis de Nata, or custard cake. Gosh, this was delicious, and I nearly missed it – bough two cakes at Faro Airport as an after-though. Next visit Pasteis de Nata will be the first thing I'll eat.
What does this all have to do with money?
My money always nourishes my life.
These two weeks in the sun were the best nourishment my life has had for over two years now.
Oh, and this blog is about my money and the way it nourishes my life. So there.
How did we do it without breaking the bank?
For four years now, we have been members of Club La Costa (CLC). It is an arrangement where we invested some money upfront for membership, giving us a certain number of points per year.
We can use these points to book holidays in CLC owned and affiliated properties, stay in affiliated hotels at severely discounted rates, etc. (Maybe, I will write a more detailed post about CLC later.)
The important thing is that while I was very sceptical about joining, John was right – CLC membership does not simply allow us but urges us to go away and explore different destinations.
Paying upfront, and it wasn't a small amount of money, also means that we pay only the annual fees now and, in this case, benefit from the rising inflation rate (just joking; inflation is never good for the people).
This year we have used our points to spend a week in the Lake District with Suzy the Dog, a week in the Cotswolds with our three sons and Suzy the Dog, and two weeks in the Algarve. That is a lot of accommodation costs already covered.
Now the holiday is over…
I am ready to tackle my work.
I did promise you that The Money Principle is back to help you leave your money worries behind and build the abundant future you want.
Work feels much more fun after a relaxing break.