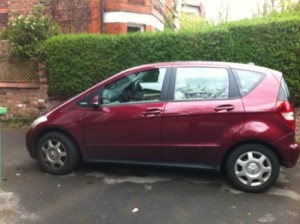 For some time now I have been looking at our family car and thinking! You see, we have one car, I don't drive to work and John works from home. We live in a city with good public transport, and infrastructure. When we go to the city centre we use the bus; and we do our food shopping in the local shops (ha, I really love my shopping trolley and it annoys and embarrasses John so much; this is a bonus, of course).
What I am saying is that it is very rare for our car to leave the drive more than five – six times a month. As to longer journeys, we probably do these three-four times per year.
You already know, that cars rank very highly on my list of liabilities; actually they are pretty high on any list of liabilities. One rationale to keeping a car is that it allows a level of flexibility that people don't have otherwise (this is if people live in the city and there is acceptable public transport) and peace of mind through the knowledge that one can get in and drive off if and when it is necessary or they simply feel like it.
Now, let's do the maths and see what having flexibility and peace of mind is costing us at the moment. The calculation of car ownership costs is very simple monthly expenditure per month and doesn't even account for depreciation. Pure spend on keeping our under-used car.
£382 ($606) per month on car loan (over three years);
£23 ($36) monthly car insurance (paid all at once, of course);
£60 ($95) petrol on average;
Heck, this adds up to £465 ($738) per month or £5,580 ($8,859) per year; and this is a lot of money to pay for flexibility and peace of mind. OK, we will finish paying for it at the end of this year but then the car will be three years old and we will have to budget for technical check, service, break downs, new tires…It is an educated guess that this will still be too much to pay for a car that mainly stays in the drive; and of course ages faster because it is not driven much.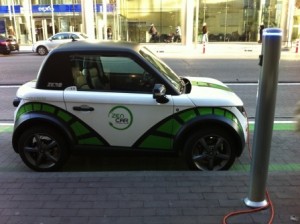 This made me look for alternatives and I remembered that when I was in Brussels last, I saw these funny little electric cars that said 'Zen Car' on the side. They look funny but there is a very interesting idea behind them. Zen Car is a scheme the main aim of which is to promote clean transport in two ways: first, it is a workable system for car sharing which reduces traffic and secondly, the whole fleet consists of electric cars. The scheme is supposed to be an edition to public transport. Sharing rules are simple: members of the scheme state when they need the car, for how long, where they want it delivered and where they will deliver it. This way, members have access to a car when they need it and the car pool gets maximum use.
Logistical hiccups aside, Zen Car type arrangements sound like an appealing option to me. Yearly membership costs the equivalent of £3,713 ($5,892) which is considerably cheaper than what we pay for our car now. This is assuming that one needs a car in the city at all. It is possible to scrap the idea altogether and get around by foot, on a push bike or using the public transport.
There is also a company called Zipcar that operates in the US, Canada and the UK. It uses similar principles to the one used by Zen Car but doesn't have the same ring to it.
Now here is the question: is it justified to continue owning a car or we can get rid of this liability and get flexibility and peace of mind in different ways?